Girl Scout Cookies Contain Ingredients Linked to Child Labor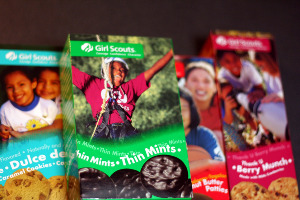 by Yoanna Hoskins, age 16
One might wonder what possible connections there could be between child labor, Girl Scout cookies, and two girls on opposite sides of the world. The connection, as it turns out, is palm oil.
Palm oil is important in the gobal food industry. It makes up 85% of the world's most consumed food oil. It is cheap, low in trans-fat, and has a long shelf life. Unfortunately palm oil plantations are a major cause of deforestation in countries like Indonesia, and child labor has long been a glaring issue in the industry.
A recent Associated Press (AP) investigation uncovered that child labor is being used to harvest the palm oil that supplies many major companies, such as Kellogg's, Ferrero and PepsiCo. Shockingly, the investigation uncovered that palm oil is used in one of the most beloved cookie brands in America: Girl Scout cookies.
Olivia Chaffin is a Girl Scout who lives in Tennessee. She was the top seller in her troop. She even won an award for selling more than 600 boxes of cookies. In addition to being a good salesman, she is environmentally astute. She wondered if palm oil was being used in the cookies she was selling. It was, but she found a label on her Girl Scout cookies that stated the palm oil was "Certified Sustainable" alongside a green tree logo. Yet, investigating further, she soon discovered that the label only applied to a portion of the palm oil used to make the cookies. Some of the palm oil, possibly more than half, came from plantations that exploit child labor.
Ima is one of the children that has personally endured the hard labor needed to harvest palm oil. Ima lives in Indonesia. She had big dreams of being a doctor, but they were cut short when she was pulled out of school; her father needed help to meet his quota at the local palm oil plantation. Ima was just 10 years old at the time.
The working conditions there were terrible and sometimes Ima was forced to work 12 hours a day with no shoes or gloves. The plantation where Ima worked provided Olivia's Girl Scout cookies with their needed palm oil. She is one of tens of thousands of children in both Indonesia and Malaysia who are exploited in this way. According to the AP, "most child laborers earn little or no pay and are routinely exposed to toxic chemicals and other dangerous conditions."
According to the U.N.'s International Labor Organizations, there are about 1.5 million children working in Indonesia's agricultural sector. Palm oil is very important in Indonesia and Malaysia. It's a big export and a huge part of their economy. Many children are born into the palm oil plantation, so that if a family member dies, they take their place. A lot of those same children have never had an education, or began it and had to cut it short due to being forced to work.
Olivia has sent letters to the Girl Scout headquarters requesting that they remove palm oil from the cookies, and is fighting to end child labor, by not selling Girl Scout cookies that use palm oil. As far as Olivia is concerned she says "I'm not just some little girl."
In a statement , Girl Scouts Nation's Capital said "Girl Scouts Nation's Capital and its baker condemn the use of child labor and any exploitation of workers. [...] The world's food supply is intricately tied to the use of palm oil. Promoting proper manufacturing principles is the most responsible approach currently available until other alternatives can be developed that do not have other unintended, harmful impacts. [...] The Girl Scout Cookie Program is an important part of the Girl Scout experience. Every purchase of Girl Scout cookies powers life-changing opportunities for thousands of girls in our local communities."
Ima still works at the plantation, and still dreams about finishing her education.
[Sources: Associated Press ; Madison.com ]