Writer, Minister and Teacher Olympia Brown Dedicated her Career to the Women's Suffrage Movement
by Devika Pal, age 16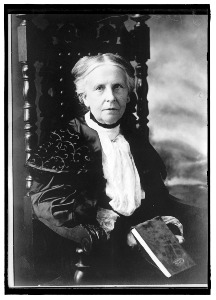 Olympia Brown, a leader in the women's suffrage movement, was born on January 15th, 1835, in Prairie Ronde, Michigan. She was raised in a home where education was vital and she was the oldest of four children. Her dad built a schoolhouse in order for his children to receive an education.
Brown convinced her father to let her attend college. In 1860, she graduated from Antioch College in Yellow Springs, Ohio, with a Bachelor of Arts. She was one of the few women who graduated at that time. Two years later, in 1862, she went on to graduate from the St. Lawrence University in Canton, New York, and became the first woman to graduate from the theological school.
Brown's family commitment to the Universalist Church greatly impacted her life growing up. In 1863, she became the first woman to be ordained as a minister, despite the lack of support from the church. In the coming years, Brown's involvement in the women's suffrage movement grew. She worked with Susan B. Anthony, Lucy Stone, and other suffragists.
In 1864, she moved from Bridgeport, Connecticut to Racine, Wisconsin because the Universalist Church there was in need of a minister. Nine years later, she resigned as a minister to commit full-time as a women's suffragist.
After stepping down from her position, Brown served as Vice President of the National American Women's Suffrage Association. Her term mainly centered around organizing and participating in myriad protests. One example of an event inspiring her resistance was former President Woodrow Wilson's refusal to support womens' rights, which led Brown to burn his speeches in front of the White House. Despite the freezing weather and lack of police protection, her and her fellow suffragists continued the fight.
The 19th Amendment, which guarantees women the right to vote, was passed in 1919. Brown was one of the few original suffragists able to vote for the first time in the 1920 presidential election.
Olympia Brown died in 1926 at the age of 91. The Universalist Church in Racine, Wisconsin renamed themselves as the Olympia Brown Unitarian Church in 1989 in her honor. Olympia Brown lives on. She is now remembered as one of the most crucial activists in the women's suffrage movement.
[Sources: Wisconsin History Highlights ; St. Lawrence University ]