Ernest Shackelton's Long Lost Ship 'Endurance' is found
by Makya Rodriguez, age 17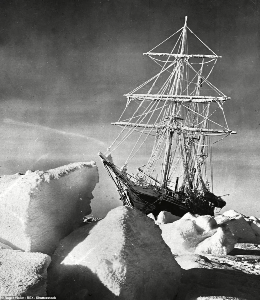 Ernest Shackleton was an Irish-British explorer obsessed with sailing to the South Pole. In 1914, Shackleton set sail from the UK on the HMS Endurance. Due to the harsh conditions, the ship got stuck in impenetrable ice. Although he was close to his destination, Shackelton and his crew were forced to abandon their ship.
They set up a camp on ice floes which took them north to an island where the team split off. Half the team left in search of help while the others stayed on the island. Eventually, all 28 crewmembers were rescued and saved.
A century later, the Endurance was found sunk in the Weddell Sea and remains there to this day. The discovery team consisted of a group of scientists, historians, and filmmakers on board to create a film for National Geographic about the mission to find the Endurance. Mensun Bound, director of the exploration said that "This is by far the finest wooden shipwreck I have ever seen. It is upright in the seabed, intact and in a brilliant state of preservation," adding "This is a milestone in polar history."
By the terms of the Antarctic Treaty, signed in 1959, the Endurance will remain at the bottom of the Weddel Sea. But even so, scientists will be able to examine, photograph, and map the ship to inform the future. Although the Endurance might have failed in its mission, it still created a great story and an amazing history.
[Sources: CNN; Associated Press; National Geographic]