Healthcare Professionals Worried About
Sharp Increase in Teen Eating Disorders
by Desteny Alvarez, age 16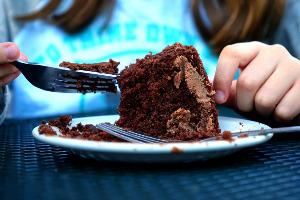 The ongoing pandemic has affected various people in various ways. For example, doctors have noticed a rise in eating disorders among kids and teens. The loss of school activities, and the need to quarantine, as well as the additional time spent on social media are factors in this troubling situation.
There are big increases in anorexia nervosa, an eating disorder that causes people to deprive themselves of food, and bulimia nervosa, where people binge on food and then vomit it. Binge eating, consuming excessive amounts of food in a short period of time is another issue. These disorders mainly affect young white girls but have started to increase in boys and among people of color.
One of the biggest influences on teenagers today is the social media platform, TikTok. Some teens are motivated to be healthier by watching well-known "influencers" on Tiktok and other social media platforms. But others experience a downside. Experts think fear of gaining weight, boredom, and social isolation in quarantine can often lead to unhealthy behaviors. Some medical researchers fear that behaviors like starving themselves to look more like the influencers they see on the internet are becoming more common among kids.
Lockdowns during 2020-21 caused many teens to spend a lot more time on the internet and this might be driving an increase in negative thoughts. "Then lockdowns happened, and they didn't have anything else to do but to continue with those thoughts," said Michaela Voss, the Medical Director of the Eating Disorder Center at Children's Mercy Kansas City.
Tracy Richmond, director of an eating-disorders program at Boston Children's Hospital, described increasing hospitalization rates of people with eating disorders. The number of patients at the hospital tripled during the pandemic, and the inpatient numbers increased from three or four to more than 10. The outpatient treatment has increased from an average of six cases a week to 23; doctors are even seeing patients as young as 10 and 12 years old. Dr. Richmond said some kids have lost as much as 50 percent of their body weight.
Eating Recovery Center, a private network with 30 centers in seven states, says that they received about 2,000 more new patient calls in the first two months of the year.
"Their lives were full of uncertainty, fear and isolation. These are the things that are very difficult in a developing brain," said Anne Marie O'Melia, Chief Medical and Clinical Officer at the Center. She added, "Everything changed in these kid's lives." The kids that depended on activities, like theater or sports, often felt everything was taken from them in a blink of an eye.
One mother experienced some of these issues with her 16-year-old daughter, 5-foot-8 inches tall and around 155 pounds, who began going on long bike rides and walks in order to be outside. In December of 2020, the mother noticed that her daughter had lost 20 pounds but was still at a healthy weight. In February, the girl passed out from low blood pressure that resulted in a trip to the emergency room. Two months later she weighed 110 pounds and was then referred to an inpatient center at Bay State's Children Hospital in Springfield, Massachusetts. She was diagnosed with major depression.
She had to follow a residential treatment program and recently finished a five-week virtual program. She has returned to a healthy weight but has not recovered mentally. Her mother reports that "[s]he sleeps in our bedroom now. She uses the bathroom with the door open. I go in when she showers...she's not eating on her own. There are still battles."
These are just a few examples of how teens have been affected by the pandemic. Many continue to work through their eating disorders and focus on not being consumed by negative thoughts. While eating disorders have always been an issue for teens and young adults, the stresses of the pandemic COVID-19 have had an unprecedented impact on them that will likely take time to resolve even after the pandemic ends.
[Source: Health and Wellness Journal, The Wall Street Journal ]