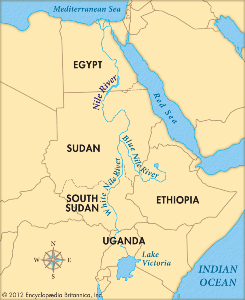 The Nile is the world's longest river at 4,135 miles. It flows North and is located in Africa. The name Nile originally came from the Greek word Neilos, meaning "river valley".
The Nile River delta is home to many different species of animals, such as crocodiles, turtles, baboons, wildebeests, 300-plus species of birds, including fishing eagles, ibis, and the Nile Valley Sunbird.
The river is mainly used for agriculture. Agriculture helps provide food for animals and for people. In history, the fertile soil of the Nile valley allowed the Egyptians to build an empire centered upon agriculture. Farmers relied on the Nile to water crops. Among their crops was papyrus, which was used to make paper.
The Nile flows through nine different countries including Sudan, Uganda, Ethiopia, Zaire, Kenya, Tanzania, Rwanda, and Burundi. Today, the Nile River is still used for agriculture and for transportation.
[Source: Social Studies for Kids]