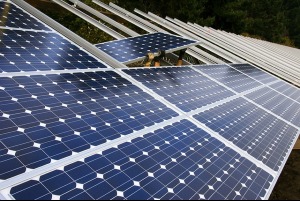 Climate change is a very pressing issue in our world today. It happens when the climate changes abnormally due to too many fossil fuels being burned at once, releasing large amounts of carbon dioxide gases into the atmosphere. Due to climate change, the earth is slowing burning, causing problems like frequent powerful storms, animals dying off, and abnormal weather. To help stop climate change, the City of Madison has created a program to bring solar energy to communities in need. Solar energy converts energy from the sun into electricity.
According to an article in the Wisconsin State Journal by Chris Hubbuch, this new program Madison has created, called the Backyard Solar program, will help low-income families benefit from electricity and resources that come from solar energy. The main purpose and goal of the program is to bring solar panels to "underserved communities." According to Mayor Satya Rhodes-Conway, investing in solar energy will benefit all residents. She is hopeful that the Backyard Solar program will help address climate change, promote equity, and improve access to affordable housing.
Different conflicts may interfere with the success of the program. Language and cultural barriers may lead to the downfall of the program, according to Melanie Santiago-Mosier, senior director for access and equity for Vote Solar. Some concerns about the program include the fact that some low-income residents might not be able to afford the costs. However, homegrown energy is cost-effective, provides jobs, and helps to reduce the effects of climate change.
A few years ago, in 2017, Madison became the first city in the state to establish a goal of 100 percent renewable energy and net-zero carbon emissions for the city and its residents. Backyard Solar is an extension of the MadiSUN program. This existing program helps homeowners to put solar panels on their roofs.
In addition to installing solar panels, there are other ways you can reduce your carbon footprint. For example, you can buy energy-efficient appliances. Other ways include carpooling or biking, composting, and most importantly, recycling!
[Sources: Wisconsin State Journal; Madison.com]