The Public's Right to Know: Fewer Beat Reporters Covering Education Issues
by Moises A. Hernandez, age 16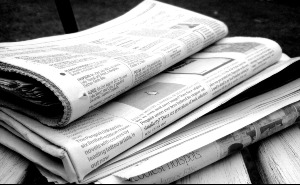 The number of professional journalists covering the education beat has gone down. Across the United States more education reporters are retiring, taking buyouts, or being terminated.
The reshuffling of education journalists is not new and is often a natural progression of the news and media business. Some beat reporters join investigative teams, move to education-specific platforms, or change their reporting focus. It's fairly common for smaller media platforms, born in the last decade or so, to attract veteran journalists. And of course, some employees move to journalism jobs outside of traditional newsrooms.
Notable departures from the education beat include Ann Doss Helms, an education reporter for the Charlotte Observer . Helms recently announced she would take a buyout after 16 years on the beat.
Journalists Bethany Barnes( Oregonian ) and Lauren FitzPatrick ( Chicago Sun-Times ) also left the education beat for better recognized investigative positions. These are just some of the many education reporters who have moved or were given new assignments in recent years.
Madison examples include Molly Beck, who left the Wisconsin State Journal to cover state politics for the Milwaukee Journal Sentinel . Former Cap Times reporter Amber Walker left to attend graduate school at NYU, but continues her education reporting on various platforms. Amber Walker's successor on the Cap Times education beat, Negassi Tesfamichael, left the paper to attend law school.
Alexander Russo, a reporter for Phi Delta Kappan is concerned about the lack of education journalists, and the lack of attention being paid to that issue.
"[T]he biggest trends I'm seeing--reporters leaving the beat or going to niche outlets--don't seem conducive to keeping the public informed," says Russo, "and I worry that these patterns aren't getting enough attention."
According to the nonprofit Education Writers Association (EWA), the number of the total reporters who cover education in the United States is unknown, but the EWA has not seen dramatic shifts in organization membership.
"Education is one of those beats that's hard to dislodge," said Greg Toppo, former senior editor at Inside Higher Ed , former national education reporter, and president of the EWA board. "You can get rid of the movie critic or the environment reporter, it's a hard case to be made to get rid of the person who covers the school board."
Like newsrooms in general, however, today's education teams are smaller. In areas such as California's Bay Area, for example, there is a shortage of full-time education reporters. This problem is not just caused by newsroom cuts, many reporters move on preemptively to better paying positions with more opportunities for advancement
Former Miami Herald politics editor, Sergio Bustos watched rounds of layoffs at his publication and made the decision to move on. As he put it, "When you're looking at the newspaper business, it was just really hard to say, 'Alright Sergio, in 10 years, when I turn 62, do I see myself at a newspaper?' That was just a hard, hard question to say yes to."
The problem of reporters leaving for better opportunities often goes under-reported, according to Rowan Moore Gerety, who wrote in an article on that topic for the Columbia Journalism Review .
"Despite their seniority or their perceived indispensability," Rowan says, "many staffers at the Herald and similarly strained papers have left of their own accord."
Traditionally, departing from beat reporting is a step to move 'up the ladder.' As Russo puts it: " Vox's Libby Nelson transitioned away from the education beat during the runup to the 2016 presidential campaign. She's now deputy policy editor. After stints covering education at the LA Times and the Denver Post, Zahira Torres became editor of the El Paso Times in late 2017."
There are a variety of factors that influence the movement of journalists. Sometimes it is because newsroom managers reassign reporters based on readership or revenue, or because of the challenges of the job. Other times it is because another job, such joining an investigative team, can bring deeper coverage of a topic.
Although there have been departures of education journalists, there have also been arrivals.
"I see on Twitter all the time, 'Please welcome so-and-so to the beat,'" Toppo said. "It's not like people aren't bringing in education reporters."
Covering local education can be a tough assignment. The education beat comes with lots of budget numbers and student progress data. Some readers might find school board coverage boring. But at the frontlines of modern journalism, many see education reporters as essential. They keep the public informed and tend to emphasize local education issues.
[Sources: Phi Delta Kappan; Education Writers Association (EWA); Columbia Journalism Review; Wisconsin State Journal; The Cap Times ]