Deidre Green Hired as Assistant Principal
at Madison's Capital High School
by Samuel Garduno, age 14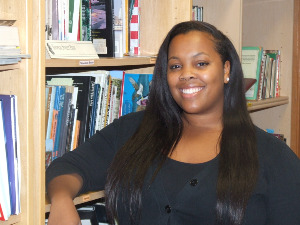 The Madison Metropolitan School District has appointed four new assistant principals at schools around the city. Among the four new assistant principals is Deidre Green, a former student and managing editor at Simpson Street Free Press. Green was recently hired at Capital High School.
In the sixth grade, Deidre Green began writing at Simpson Street. During her years at the Free Press, she worked her way up the ranks to become managing editor. As a student writer, Green recalled the most impactful experiences being the teaching she received from editors, especially Betty Kramer, a local volunteer.
"[Betty] would help me and spend time with me on grammar because I was really bad, I didn't know a lot of the grammar rules," explained Green in an interview with current Simpson Street reporters.
"I didn't know why I was making a lot of the grammatical mistakes I was making. She would explain it to me in a way that made sense."
Green took that individual help to heart, and later, one of her favorite parts of being a managing editor was mentoring and teaching students writing and literacy skills.
"Working with the younger students and being able to see them light up...once a student makes a connection and realizes that they have finished their first article, that's priceless," Green says.
After graduating from UW-Madison with an undergraduate degree in English, Green went on to pursue a masters degree in Secondary English Education. Green claims that her role at Simpson Street Free Press influenced her passion for teaching.
"Sitting down one on one with kids, I realized that first of all, I was good at working with students," said Green. "By running the newsroom, I realized I was good at multitasking and that I was able to work with a lot of kids at once. I was like hey, I should be a teacher."
Green began her career as a classroom teacher at Blackhawk Middle School, and after a few years, assumed the Dean of Students role at Blackhawk. Her experience as a dean showed Green she wanted to be an administrator. So, when the position of assistant principal opened up, Green seized the opportunity to apply.
Upon taking this new role, Green looks forward to implementing her knowledge and experience with different systems within schools to build authentic connections with students. Eventually hoping to become the principal of a school, Green is excited to take this opportunity to "grow as a leader." Her main goal, though, is to positively impact the lives of students.
"Ultimately, they're the reason why I do the work that I do …. to work with kids and make sure that they are successful."
All of us at Simpson Street Free Press congratulate Deidre Green and wish her the best in this new chapter of her career!