A Message From Editors & Staff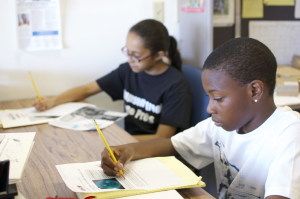 We have a conundrum. Longtime Friends of SSFP know we rarely print in hardcopy anymore. But SSFP has doubled the number of students enrolled in its programs. We had to make choice, more students or our precious hardcopies. We chose more kids -- for now. SSFP students publish five separate newspapers, including a new bilingual paper – La Prensa. Our students operate a network of youth book clubs and create online book trailers. We teach at several south Madison sites, including a SSFP newsroom at Capital Newspapers.
Friends of SSFP is an important group. You have supported us for 22 years. This monthly newsletter will help you (and your kids) follow SSFP. Unrestrained by column inches, SSFP students publish far more written work than ever before. We can only offer a small tease here, but what these local kids do is extremely impressive. We encourage you to read online at simpsonstreetfreepress.org. You'll see our community through a fascinating, new lens. You can also follow us on facebook.
Rest assured, SSFP students still get the same high-quality academic instruction. Our lesson plans emphasize writing, literacy, and core subject knowledge. Students learn science, geography, and history through the intricate process of writing and publishing. In 2014-15 local kids enter the Common Core era. More than ever they are compelled to take the ACT. SSFP is uniquely positioned. We deliver high-quality academic instruction that matches new research and all new academic standards.
Common Core or otherwise, new standards will come to Wisconsin. Whatever standards are installed, they will be more rigorous, and will certainly emphasize writing proficiency and literacy. Literacy is the SSFP brand. We teach college readiness through productive use of out-of-school time and an organized approach to academic work. SSFP methods are backed by evidence. Data confirms results. A writing across the curriculum approach works. The SSFP newsroom process: inquiry, close reading and research, planning and drafting, multiple rounds of revision. Build confidence and pride, always be curious, and "never hand in your first draft."
As you know, we're proud of our students. They get good grades and encourage their peers to do the same. What you might not know is that the SSFP anchor site at South Towne Mall has doubled in size. This is Dane County's first all-academics youth center. We hope you will visit. You're of course welcome to bring kids. In the meantime, thank you for supporting our work.
-- Jim Kramer and Deidre Green