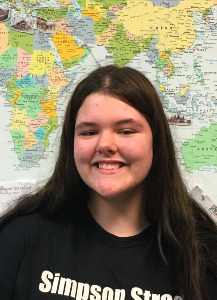 I remember the first time I entered the Capital Newspapers building next to my school. I remember seeing professional journalists at work and thinking about how I could be like them one day. At James Wright Free Press I received constructive criticism on my articles from editors and volunteers. This was hard to take at first. My ambition was to be a writer and, at the time, I thought I was fairly good at it. However, with time and effort, I was producing one or more articles every month, and this summer I produced even more.
I will admit, it did take some time to get used to not being able to choose what write about. Free Press editors usually pick assignments for our newer student reporters. They want us to write about things we study at school. But as I gained experience, the editors gave me the freedom to choose my own topics.
As I enter eighth grade and prepare for high school, I realize that most of my experience as a writer comes from my time spent at Simpson Street Free Press. When I am at school, I rarely get to engage in conversations about my writing because my teachers do not usually have the opportunity to spend a lot of one-on-one time with each student. I feel this prevents me from being able to expand on my knowledge of writing. I look forward to a career as a journalist, so one-on-one time with editors really helps me.
Simpson Street Free Press helps me understand what it takes to be a writer and a journalist. I have learned and written more in my three years I have worked in the Free Press program than in the eight years I have been in school. My time at school works together with my time at the Free Press and helps me learn and grow.
Thanks to the Free Press and the opportunity to work at Capital Newspapers, journalism is something I can see myself doing 20 or 30 years from now. I will look back fondly on my time working and writing at James Wright Free Press.