Can Women do Science and Math?

by Adeaze Okoli, age 16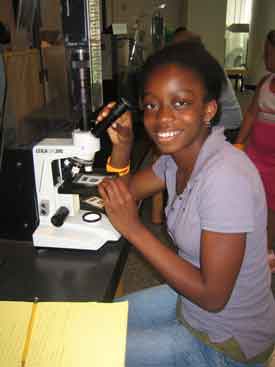 Five years ago Harvard University President, Larry Somers sparked a nation-wide controversy when he said that women and girls may not have the same aptitude for math and science as their male counterparts. Part of what made these comments so controversial is that Somers is a well-known national figure. He currently serves as a Senior Economic Advisor with the Obama Administration.
Actually, to be fair to Somers, that's not exactly what he said. In his famous 2005 speech at Harvard, Somers acknowledged that there are many talented female scientists and he discussed ways to eliminate the social barriers they face. He went on to say that even if all social factors were eliminated, the science faculty composition at elite schools like Harvard might still be skewed by a biological factor; the greater variability observed among men in intelligence test scores and in various other traits men and women might, on average, have equal abilities in math and science, but there could still be disproportionately with very low or very high scores.
Critics refuted the hypothesis presented by Somers. Some scientists have argued that the remaining gender gap in extreme scores is rapidly shrinking and will eventually disappear. Two University of Wisconsin researchers, Janet Hyde and Janet Mertz called what remains of the gender gap, "largely an artifact of changeable, socio-cultural factors." They noted much recent evidence showing the gender gap narrowing.
Whatever Somers meant to convey in his controversial speech, there is no question that his comments rekindled an old debate. This particular aspect of the gender gap debate is extremely important. Our economy is changing. Jobs are harder to get. Planning and preparing for higher education is more critical than ever for today's young people. Girls and women simply have to consider opportunities that exist in the fields of finance, healthcare, biotechnology, and science.
This is an important subject and it is a subject that this newspaper has covered for many years. We will continue this coverage in coming issues of the Simpson Street Free Press. We will post numerous articles and editorials within the pages of our online newspaper at www.simpsonstreetfreepress.org. This will also b e the subject of our next community forum, scheduled on Thursday, November 4nd . The discussion will be hosted by former Free Press columnist and editor, Andrea Gilmore. Andrea is now pursuing her PhD in nursing at UW-Madison.
The forum will take place in the Free Press newsroom located at 2411 West Broadway in South Towne Mall. It will begin at 6pm. For more information call the Free Press at 608-223-0489.

[Sources: The New York Times; Scientific American]