Madison's Young Voices Make Themselves Heard

by Parwat Regmi, age 17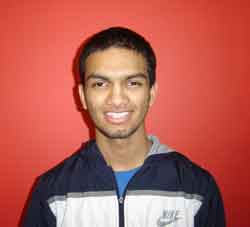 "We need to be the change that we want to see in the world." - Mahatma Gandhi

School, generally speaking, is a place to gain education. Schools here in the United States start at the elementary level, where toddlers learn their ABCs, and how to add and subtract their numerals. As children level up through the years, they become more competent and learn in advanced ways.

When they enter high school new challenges begin. High school students forge their own future. They make their own decisions and even select their own classes. In other words, high school is the potter's wheel, where students take their malleable knowledge and sinter it into practical use.

Many high school students are prudential about their education and are willing to speak up when they feel they are being denied opportunities. One example is the issue that ha splayed out at Madison West during the past six months. The debate surrounds the availability of honors and AP classes at the school and throughout the Madison district. Because the achievement gap is an insidious problem here in Dane County, this debate inevitably includes discussions of race.

On a calm morning last fall, 500 students suddenly walked out to the Ash Street entrance at West. They found places to sit—either on the ground or the steps; I was one of them.

So, why did a quarter of West High students skip classes to sit in front of the main entrance? The answer lies in "The Plan," a Madison Metropolitan School District (MMSD) proposal that upset many West students. Our superintendent, Daniel A. Nerad and his assistant, Pam Nash, formulated "The Plan".
"The Plan" is a set of reforms that target honors level courses for West High freshman and sophomores. The goal is to serve incoming "talented and gifted" students. It also aims to make "high school offerings more consistent," across the district, according to Mr. Nerad.

The idea for the reform was sparked when 50 parents of West High students filed a complaint with the Department of Public Instructions (DPI) against the MMSD Board regarding their reason was the lack of "talented and gifted" programs within the Madison Schools. Lorie Raihala, a West parent, said that MMSD has "blatantly violated state statutes for gifted education" by denying advanced classes to its freshman and sophomore students.

So, what classifies students as "talented and gifted? " Wisconsin legislation defines talented and gifted students as "students with high performance capability in intellectual, creative, artistic, leadership or specific academic areas." The state's definition itself is controversial. It leads to another question: what does "high performance capability" mean?
While Nerad did not attend the protest, he did address the reform in a phone interview afterward. He said that the proposed reform was the result of "two years of work" and an adopted national core curriculum. He is also certain that the proposal will "address the achievement gap". Mr. Nerad wishes to leave a legacy by reducing Madison's achievement gap, in part with this new reform.
While many support Mr. Nerad's position, others think these ideas will not be effective in narrowing the gap. In fact, some Madison school staff and students fear that the new plan will segregate students even more. Jacob Fiskel, a senior at West and one of the protest organizers said, "It's also not an effective way to reach the district's goal of closing the racial achievement gap".
The current education system at West creates a dynamic atmosphere. It is a good place for students to learn. During their freshman and sophomore years, West students have the opportunity to receive an honors grade by taking in-class advanced level courses, or "embedded honors." This system hits two birds with one stone. Honors students are in the same class with other students—learning and discussing the same ideas, but also providing and receiving a variety of opinions from a diverse body of students. During their junior and senior years, students have additional options to choose from an extended list of electives.

As a senior in high school, I chose classes that challenged my learning, such as Advanced Writing Workshop—the king of all English classes available at West. Within the first week, our teacher assigned us our first paper. Completing it kindled my ability to write. The atmosphere within the class—the talent, diversity, and the ideas of the people ignited my motivation.

The West system also aids in narrowing the achievement gap because different levels of students learn from each other, without submitting to the similar system proposed by the MMSD administrators.

Recently the school district announced it will implement "The Plan" next fall—despite the complaints from students, teachers and parents. The Nerad plan will add honors English and History courses at West and Memorial high schools.

In our democratic nation, we often establish a wise course on difficult issues by listening to a broad spectrum of opinion? Nerad, Nash, and the Madison School Board did decide to make forward with their new plans for honors classes. But they also listened to diverse points of view. Nerad recently instituted a new process for taking in input from students, parents and teachers. For this he deserves much credit.

Apparently, a sit-in of 500 upset students, and many parents and teachers' arrayed on all sides of a difficult issue was not enough to change "The Plan." But, young people spoke up, spoke their minds and their voices were heard. This is a good thing.