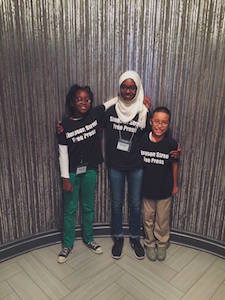 For many, 2016 may not have been the best year, but we sure had a great time at Simpson Street Free Press. I want to tell you about some of my best experiences at SSFP in 2016. In the midst of all the good moments, five rise to the top.
NAACP Freedom Fund Banquet
The Dane County NAACP Freedom Fund Banquet was an exciting event that commemorated the founding of the NAACP in 1909. This year, the event took place at the Madison Concourse, an upscale hotel located on the Capitol Square. I went with editors Mckenna, Taylor, and Eleazar; teen editors Amie, Dija, and Sarah; and my fellow staff writers, Sammy and Mariama. I was absolutely awestruck by the elegance of the venue and its guests, who wore sleek gowns and sharp tuxedos. The NAACP may not make as many headlines nowadays, but they are active advocates for justice.
Girls Coding Day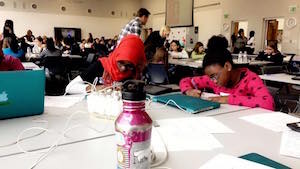 As part of SSFP's commitment to advancing young women in STEM fields, our editors recruited a group of us to learn how to code for a day. On the top floor of the Central Library, we arrived at the Madym event, where workstations were set up with laptops and tablets, our learning devices for the afternoon. Izamara, Mariama, our editor Aarushi, and I were grouped with a few other girls around middle school age, and we began a conversation about apps. After brainstorming, we each developed an outline for the app we would like to create. Mine was a goal tracker called "365 DAYS" that would encourage you to try something new every day. Other group members designed a game that simulates taking care of a pet. Another app was a role-playing game in which the player actually is the pet. We then brought our ideas to life using programming software, which I thought was the most exciting part. As children of our generation, we spend tons of time using apps. I think it's important to learn how they're made and take a shot at making our own.
I'm Not My Hair Editorial
Writing my first editorial, "I'm Not My Hair" as part of SSFP's Summer Writing Workshops, was difficult at first, but I'm very proud of the result! While searching for my next source, my editor Deidre found an article about the science of hair. She suggested I write an editorial about different types of hair. I was looking for a challenge, so I eagerly accepted. It was nice to have the opportunity to tell people about natural hair from my point of view. But I was hesitant to state my opinions because I didn't want to hurt the feelings of people with other hair types. In my article, I included not just science but also my own experiences with my thick, tight curls. Working on the editorial taught me not to be afraid to voice my opinions. It is okay for me to have strong feelings, especially in an editorial!
Madison Maker Faire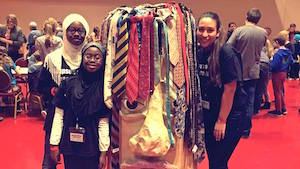 Earlier this year, the City of Madison put on a Maker Faire. The SSFP staff had a great time participating. My sister Mariama and I started our day at the Monona Terrace with SSFP editors Aarushi and Eleazar and teen editor Sarah. Like the many others who shared creations made with their hands, we set up a booth at the fair with trifold posters to explain what SSFP and our six publications are all about. We split up our time into shifts so we could each work and explore the Faire. While exploring, we saw prototypes of inventions produced by elementary and middle schoolers like a smart collar for dogs that notifies the owner when their dog leaves the house. I was transfixed by the old fashioned electronic knitting machine that was hacked to knit photorealistic products. We also visited the Madison Circus Space display, where we got to rock on a German wheel, a metal ring used by acrobats. It was so cool to see the amazing things that happen within our city limits and learn incredible new things. If there were one phrase to describe this event, it would definitely be "creativity unleashed!" To top it all off, I wrote an article about my experiences at the fair, which was published by Madison Commons!
United Way Event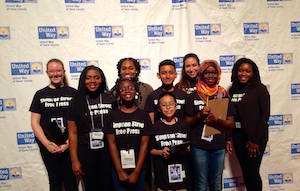 At this red carpet event put on by one of our supporters, United Way, an SSFP reporting team worked as the paparazzi. After being schooled on how to use a camera by local photojournalist Ron Dennis, editors Mckenna and Taylor, teen editors Leila, Amie, Enjoyiana, and Sarah, and staff writers Cris, Sammy, Mariama, and I made our way to the carpet. We each had our specialty; some of us were photographers, while others interviewed guests. I was a photographer most of the time. It was fun watching the guests pose and walk proudly down the red carpet to show their support for United Way, a long-time friend and supporter of SSFP.
In 2016, memories were made and excellent articles were published here at Simpson Street. But a new year brings new memories and new articles. In 2017, we'll keep working hard and growing as writers and community leaders.