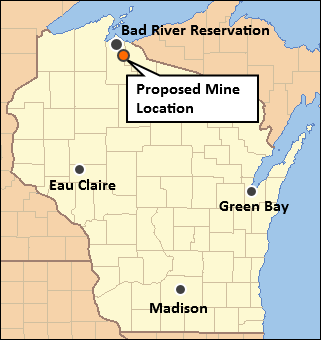 "All rocks are on a journey. They have a spirit, a power, a mystery: When you pick up those rocks make sure you put them back again." --Mike Wiggins, Bad River Tribal Chairman.
Gogebic Taconite (GTac), a subsidiary of The Cline Group, an organization known for coal mining, is currently attempting to establish an open pit taconite mine in the Penokee Hills of Wisconsin. While taconite is low-grade magnetic iron ore, shortages of high-grade iron have led GTac to encroach on Wisconsin's pristine territory. If approved, this mine could have many negative ramifications for the environment, Native American communities, and government policy.
The mining process could lead to irreversible environmental complications. Since rock in northern Wisconsin has high levels of sulfur, mining may generate acid and leach heavy metals when exposed to air or water. A geological study at Lawrence University concluded that the first stage of open pit mining could release up to 1.3 million tons of sulfur and large quantities of mercury, arsenic, zinc, copper, and phosphates, all of which would pollute the surrounding waters. Meanwhile, taconite processing plants consume immense amounts of energy and water, and their air emissions are the largest source of mercury in the Lake Superior basin. The mine itself would produce 24 million tons of waste rock and 16 million tons of tailings [non-iron ore] a year. It also is estimated that the mine would require at least 145 megawatts of electricity a year—twice the amount generated by the surrounding power plant. This would mean that with the launch of the mine, an additional power plant or high tension lines would need to built, further draining Penokee resources.
The mine's environmental impacts would ultimately affect surrounding Native American tribes. The border of the Bad River tribal reservation rests six miles downstream of the mine. The Bad River community depends greatly on the reservation's pristine waters. Bad River holds 40 percent of Lake Superior's wetlands and wild rice beds, and a large portion of the community members' diet consists of fish and rice from the surrounding rivers. If that water was contaminated the community's food could be poisoned, threatening their lifestyle and livelihood.
The US government historically has exploited Native American communities by mining their land. Hardrock mines such as the Zortman-Landusky and the Idaho Silver Valley mines have poisoned fish and wildlife, contaminated sacred sites, and polluted tribal water systems. Other mines like the Midnight uranium mine in Washington led to serious health concerns. As Bad River Chair Mike Wiggins put it, "We are in the crosshairs, set to endure the bulk of the environmental impacts in terms of groundwater pollution, surface water degradation, and air pollution."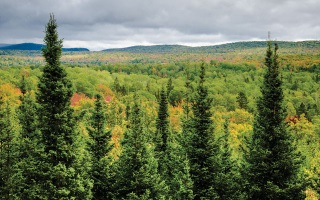 Supporters of the Penokee mine argue that it will provide jobs, jump-starting the economically depressed communities of Northern Wisconsin. While possible, the concept of prospective jobs is often oversimplified. Mines cultivate a boom and bust economic dynamic, which ultimately results in depression. Since the majority of the economic benefits are short-term, they create more problems when they inevitably end. Mining communities have historically been poor due to the fluctuating ore prices and eventual layoffs. Even if GTac would provide impoverished towns with growth capital, an equal amount of job opportunities could be achieved in the communities with sustainable public works projects.
While Governor Scott Walker and other legislators may genuinely believe that this mine is important for the economy, the funding they have received from GTac and other pro-mine organizations is problematic. According to the Wisconsin Democracy Campaign, a campaign-finance watchdog organization, Christopher Cline and GTac employees have contributed close to $700,000 to Governor Walker and Republican legislators since 2010. The addition of funding from Wisconsin Manufacturers and Commerce (WMC) and other supporters of mining deregulation brings that number up to about $15 million.
In early 2013, Governor Walker passed new legislation, Wisconsin Act 1, revising Wisconsin mining regulations. While they originally claimed that the mine would meet Wisconsin's existing regulations, Gogebic Taconite lobbied state legislators for years to change their policies. Not only have they been changing their stance, but they are also removing crucial environmental protections put in place to preserve land for posterity. Without this legislative safeguard, the future of the state's territory may be in jeopardy.
"I think there's two different columns [of problems]," says Barbara With, co-founder of the Wisconsin Citizens Media Co-op and blogger for United in Defense of the Water. "One is the complete and utter obliteration of what is a world class water system that can't be replaced, and the other is the stealing of our government and our democracy. I think those are equally damaging."
According to With, citizens who want to get involved should truly understand this issue. "I would say first of all, educate yourselves on the complexities of the issue. Look past just jobs vs. environment and look at what GTac and Chris Cline [American mining entrepreneur] have done that has been illegal. And then do something."
I urge you to take With's advice. The proposed Penokee Mine is a danger to the state. If it passes, it will destroy a pure, beautiful region of our country, perpetuate a culture of degradation towards Native American tribes, and devalue our voice in government. Join The Bad River Tribe, Citizens United, The Wisconsin League of Conservation Voters, and other concerned citizens in the fight to save the Penokee Hills. Let's make a change.
[Sources: Outer Boundary Magazine; Mazina'igan Supplement; Iron Mining in Wisconsin; earthisland.org; Barbara With Interview]