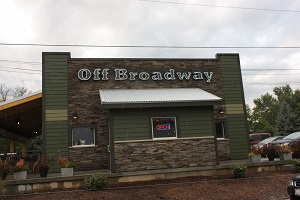 If you're ever looking for a sophisticated bite, look no further than Broadway. The teen editor crew and Assistant Editor, Aarushi Agni, from Simpson Street Free Press made the short walk from our West Broadway office to grab some grub at the newly renovated restaurant and bar, Off Broadway. Off Broadway is the reincarnation of South Bay Lounge, owned by Joe Klinzing at 5404 Raywood Road, Madison, Wisconsin.
We were welcomed at the front door and escorted to our tables on the patio. When it came time to order appetizers, or as they call them "shares," we decided on frites, the Drafthouse mussels, warm goat cheese on a baguette, and the Airway Chicken Wings.
The mussels were to be cooked in either beer or chardonnay, and our chef decided upon cooking them in beer. In addition to the beer, there were potatoes, bacon, and onions and it was delicious. The mussels were cooked to perfection in a hearty broth.
The warm goat cheese did not disappoint; it was served with sliced red peppers, whole roasted garlic cloves, capers, and extra virgin olive oil on a toasted baguette. Personally, I like garlic, so the garlic cloves did not come off as strong. The salty capers added a nice, tart bite to the simple goat cheese. The Airway Chicken Wings were brined with dill, and served with a smoky dry rub and came with a fancy side salad. Our final appetizer, the frites, were satisfactory. They were seasoned nicely, but came out warm, with divine dipping sauces. The roasted garlic and the chili lime aioli had just enough flavor to bring you in for another dip.
As far as entrees go, we ordered the Esther's Caesar Salad, Roasted Veggie Risotto, the Drafthouse burger with Fontina, the Drafthouse burger with Cheddar, and the ABG. The Esther's Caesar was a standard caesar salad but the smoked caesar dressing gave it a nice flavor. The Drafthouse burger with Fontina was delightful; it was an excellent choice of cheese and it made for a nice stretchy bite. The Drafthouse burger also had a delicious tomato and bacon jam that paired beautifully with the smoky burger. The ABG was a salad of arugula, beets, and goat cheese, as well as red onion, almonds, and dressed in house made apple-cider-chili vinaigrette. It was a very tart but satisfying bite, and the almonds added a nice crunch. Lastly, the Roasted Veggie Risotto was a dish I couldn't decide if I liked or not. It came with roasted sweet potato, sun dried tomatoes as well as red onion and broccolini, but the roasted garlic veggie stock gave it rich flavor.
Lastly, we ordered a couple of desserts; the chocolate allspice cake and the flourless chocolate brownie, but because they were out of the chocolate allspice cake, the kitchen surprised us with a chocolate allspice mousse. It was topped with crystallized ginger and it was very refreshing and paired nicely with the allspice. The flourless brownie didn't disappoint either, it tasted exactly like a brownie only it was much denser and richer.
I was impressed by their ability to transform a cake into a delicious mousse, and I think that they did a lovely job making sure our experience was a beautiful one. The trip to Off Broadway was one to remember and we will definitely return for some delicious food.