Baseball People
The Ichiro Suzuki Trade: Reflections of Japanese-American Fan
by Shoko Miyagi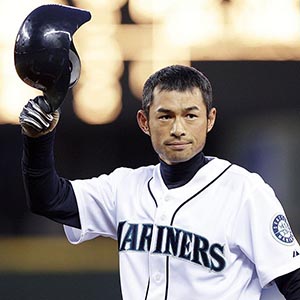 So it started out like this. I got a phone call from my husband as I was driving home from work that day. He said, "I am NOT kidding and I never kid with you about something like this…(pause). Ichiro just got traded to the Yankees…(pause). Just come home."
The news hit me like a rock. I was crushed. It pierced me. It really hurt. As I watched the Ichiro press conference, I understood what he said in Japanese. He chose his words carefully and spoke with a heavy heart. I wanted to understand his decisions intellectually, but I couldn't bring myself to physically. I couldn't stop crying. I woke up with puffy eyes and a throbbing headache and did not go to work the next day. When I did go to work, my coworkers had put black tape across my office door. A big piece of paper that read, "Mourning the Mariners" with a picture of Ichiro wearing the Yankees uniform.
It made me cry again.
We cancelled our family trip to Toronto to see the Mariners play the Blue Jays. Our dog now has to be re-named from Ichiro to…I don't know, R.A. Dickey? (our family dog looks like a Mets pitcher) I used to read Mariners box scores, Yahoo! Japan and MLBrumors.com daily. I almost exclusively watched MLB Network (I found ESPN annoying - they cover other irrelevant sports). I stopped all that. I don't read anything baseball. I don't want anything to do with it.
At least not for a while.
I keep telling myself it's just baseball. I know I can still follow Ichiro. But I can't possibly imagine myself rooting for the Yankees. He played quietly in that corner of the United States for 11 years. He broke some of baseball's most hallowed records. I have never been to Safeco, but from where I live (in Wisconsin), my husband and I traveled all over the Midwest to see Ichiro play every summer. Our vacation followed Ichiro. With my ScoreMaster and pencil in hand, I watched and captured his every move.
Quietly I became an intense and passionate fan. The world of baseball is intricate and poignant. I slowly developed my love of baseball. But I now realize that I foolishly let myself follow something with too much interest and intensity. I didn't hold back. I unleashed it. It was all or nothing. I really don't know what I'm going to do now. Nor do I care. I'm torn and lost. I need a dose of detachment.
* * *
Shoko Miyagi is a longtime Simpson Street Free Press teacher and volunteer. Originally from Japan, Shoko now works at UW-Madison in the Division of Facilities Planning and Management.