With the Future of Journalism in Peril, Young People Must Stand up for Freedom

by Adaeze Okoli, age 17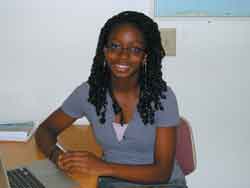 During recent political unrest in Egypt, the Egyptian government attempted to suppress the uprisings by cutting off all access to the Internet and text messaging. For six months, Egyptians had been organizing demonstrations against their government. By January, the government was losing control over its citizens, and revolution was imminent.

According to Wael Ghonim, Google's Middle East and North Africa Marketing Manager, "if you want to liberate a society just give them the Internet."
It is obvious the Egyptian government was aware of this, and wanted to maintain their control. Ghonim, one of the people behind this revolution, credits social networking sites and news networks for its success.

Social networking sites like Facebook enabled the people to freely express their opinions. As the political unrest spread, the Egyptian government could not effectively censor all its citizens. They would have had to shut down the Internet. This, they could not do. And so it was the news networks that told the story. It was journalists who helped a nation and its people hold a government accountable.
This is the main purpose of journalism: hold governments accountable for their actions, and guard the rights of the people. When a government oversteps its boundaries and begins to infringe on the rights of citizens, the power of a free press comes into play.
Because of its unique role, journalism is often called the "fourth branch of government." Although our government has checks and balances, journalism serves as an additional and highly effective watchdog.
This country's founding fathers realized how important strong, opinionated journalism was to the success of a nation; they built the United States on the principles of free speech and free press. The freedoms contained in the Bill of Rights are central to American democracy.
In the case of the Watergate scandal, these principles proved very important. Reporters Bob Woodward and Carl Bernstein of The Washington Post authored a series of investigative reports that ran in major newspapers across the country. Their work led to numerous government investigations and the eventual resignation of President Richard Nixon. Even though Woodward and Bernstein encountered opposition, these journalists recognized the critical nature of their work. They continued to investigate, and they pursued the story.
Imagine if our government had acted differently during the Watergate era. What would our country look like today if its government had assumed the power to prevent Woodward and Bernstein from publishing?
At that critical crossroads in our history government leaders lied to the people. They tried to cover up corruption. They withheld information. They stonewalled and threatened the press. Two young journalists stood firm, did their job, exposed the corruption and told Americans the truth. History is thankful they did.
It is now more important than ever for young people to take an active role in journalism and media. Journalism is undergoing a major transformation. We have a responsibility to hold our government accountable—just like 30-year-old Wael Ghonim did in Egypt. Young people can change the future of nations.
Today, newspapers around the country are in financial trouble. Some people think journalism is dying. Let's hope not, because without journalism the core freedoms we Americans enjoy will soon be in jeopardy. Our generation must learn to defend those freedoms using our pens and our keyboards.

Adaeze Okoli is a junior at Middleton High School and Senior Teen Editor for the Simpson Street Free Press.