Our Community Needs Young Voices

by Deidre Green, age 19 and Adaeze Okoli, age 16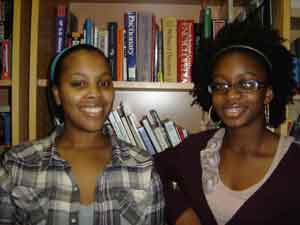 For two decades, in editorials and columns printed in our newspaper and other publications, Free Press writers have worked hard to address local achievement gaps. In tough economic times, budgets should be carefully scrutinized. It stands to reason that during these tough times, youth programs that achieve the best results and non-profit organizations that spend dollars most efficiently should be priorities.
It should come as no surprise that many local non-profit organizations are under financial pressure. By most accounts a major point of emphasis in our community is to bridge long-lasting achievement gaps. We all assume that continued funding for successful and efficient academic support programs would result.

It seems a matter of common sense.

*****
Sadly, in Dane County, this is not the case. Some of our best and most important programs, those that focus primarily on academics, are often first to feel the budget axe. Our own nationally renowned academic program, Simpson Street Free Press, will undergo dramatic cuts.
As teenagers and young women of color, we witness firsthand what programs are available and accessible for people like us. We notice plenty of access to programs, but limited access to academic programs. This is unfortunate. As a community we say we want to help kids of all backgrounds find success. Then we slash funding for key academic programs.

Activities like writing, researching, and using technology will most benefit local students. By reducing access to after school programs that concentrate on academics, we hurt the very kids we say we are trying to help.

But it gets worse—much worse. While the City's decision to deemphasize after school academics runs counter to the will of constituents, it also brings to mind a much more significant issue. In our minds, there is something very troubling about an arm of city government working to limit our access to a Free Press. In this case their efforts will effectively silence our voices.
In this community, when it comes to the programs we invest in, we suffer from the burden of bad ideas. We have reviewed lists of recent funding decisions. We have done our homework. Many of the programs that receive funding from the City of Madison aim to keep kids active and out of trouble. Nothing wrong with this. However, this is not the sole purpose of youth programs. This is not innovation.

While keeping kids off the streets is fine, in the long run it is school performance that will determine futures. National research tells us the best youth programs help to improve academic skills. We agree. Our community gets far more for their tax dollars when our youth programs teach and prepare kids.
Programs like those offered at the Simpson Street Free Press are exactly that type. They promote student achievement, prepare kids for academic success, prepare them for jobs, and keep them engaged in their community. There is much recent research demonstrating that programs that compliment school curriculum are most effective in fighting stubborn achievement gaps.

Again, we have done our homework. According to recent news reports, 90 percent of new high-growth, high-wage jobs will require postsecondary education. To graduate from high school and be successful in a postsecondary program, students need a solid academic base. Simply showing up at school is not enough. Students need rigorous academic enrichment opportunities to supplement their education. This is particularly true for lower-income kids.

Research bears out these points. The Harvard Family Research Institute says programs that compliment in-school curriculum are most effective. According to the National Search Institute, low-achieving students often lack resources at home and school. This highly respected organization says the best use of community dollars is to provide outlets for kids that build academic self-confidence and practical skills. A UW-Madison School of Education professor recently completed a three-year analysis of methods used at the Free Press. She concluded that these programs "Fostered a deep love of learning among adolescents" and that participation resulted in "academic confidence."

Clearly we need more programs like the Simpson Street Free Press. They are important to our community because they accomplish many goals. Thus, they are very cost-efficient. In this newsroom, kids from all backgrounds hone academic skills. We learn to use technology, learn science and geography, learn to write with confidence, think critically, meet deadlines, conduct research, and join book clubs. We also gain practical job skills. In short, we learn to become successful and confident citizens.

*****

A youth newspaper gives young writers an environment where learning, discussion, and critical thinking are encouraged and rewarded. It prepares us to participate and contribute.

We realize finances are tight. So we strongly encourage our adult community leaders to prioritize goals. We urge proper resources for enrichment programs with proven records of success. If we are serious about bridging the achievement gap in local school districts, then we should find a way to support our most valuable and effective youth programs. Academic programs must come first.


Deidre Green is managing editor and Adaeze Okoli is senior teen editor at the Simpson Street Free Press.