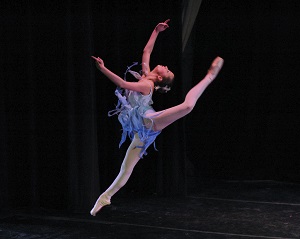 Across time and culture, dance is a way that humans communicate.
When people dance, they organize their body movement into patterns. Dance patterns may be structured steps and movements or informal, a more natural style of dance known as improvisation. People dance for all sorts of reasons: to celebrate an event, for entertainment or for relaxation. Dancers express their feelings through movement to create a personal performance.
Dance is important for many religions and traditions around the world. Some religions use specific dances to mark important stages of life, such as births and deaths, through dance. Ballet is a western classical art form that mixes silent acting, or miming, with dance. India and Thailand also have classical dance traditions.
Choreography is a way to organize performances. Usually the movements are written down in order. The most common step recording system is called Benesh Movement Notation. It was developed in the 1940s. Not all dances are choreographed, folk dances such as Scottish reels and Spanish flamenco, are pure improvisation. But, even without choreography, these dancers know the order of the movements. They learn them by heart from traditions passed down to them. Dancers continue to modify traditional steps over the centuries.
Whether it is for competition or fun, dancing is something many people can do to uplift their mood.
[Source: Arts and Entertainment ]