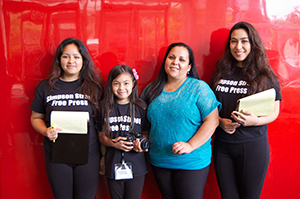 Simpson Street Free Press student reporters recently had the opportunity to meet and interview potters from the rural Mexican village of Mata Ortiz at the Madison Museum of Contemporary Art (MMoCA). Each artist has a unique story—some began the trade at age 17, while others started at only four years old. All of the artists, young and old, share a deep passion for the ceramic arts and their village.
Inspired by the ancient works of art created by the Paquimé, the pottery produced in Mata Ortiz is fascinating and full of detail. The pottery is decorated with intricate and beautiful patterns. It is carefully painted with homemade brushes, which are often made up of only a few strands of human hair. The potters' materials, both clay and paints, are plucked from the mountains surrounding their village. Mata Ortiz artists craft their pieces without the use of a potter's wheel.
When we walked into MMoCA, we were immediately mesmerized by the displays of artists' work and their hands-on demonstrations in the museum store. After viewing the displays, Free Press staff and students attended a lecture given by Terry Haller, retired business executive and a connoisseur of Mata Ortiz pottery. Following the lecture, we sat down with some of the potters to discuss their work and the origin of pottery in their village.
Elvira Bugarin was one of the artists we interviewed. She began making pots when she was 17 and initially used her older sisters' designs as inspiration. Today, Elvira has been making pots for 20 years. She now prefers using a more spontaneous and "in the moment" approach to her designs. Elvira has received national recognition and many awards for her pottery throughout the years. When we asked her about the impact of pottery in her town, Elvira explained that everyone in Mata Ortiz grows up seeing the process of pottery making, which inspires younger generations to want to try it for themselves.
We also asked the artists about how the process of firing the pots works. Elvira indicated that the artists surround the pots with hot, burning wood. Once the pot in the middle of the wood is red, the potter must remove it and let it cool before it breaks. The potters are never certain how long a pot can stay near the burning wood before it will break. This makes the process very risky. When her pots do break, Elvira gives the shards to a friend who makes jewelry out of them.
In Mata Ortiz, the business of making pottery often runs in the family. Elvira's seven-year-old daughter started making pots when she was only four. Her son, Raul Eduardo Pedregon Bugarini, started the practice at ten years old.
We also spoke with Raul about his experiences growing up as a potter in Mata Ortiz. Now 15, he has been making pots for five years. Raul said that his pottery has been influenced by a number of people, including his parents and brother. Though Raul often uses his mother's designs, he works to make them his own. He said that while this artistic process can be hard to learn at first, it becomes much easier with practice.
During our afternoon at MMoCA, we learned a lot about the struggles, delicacy, and joys of pottery making in Mata Ortiz. Overall, we gained first-hand insight about a unique and fascinating cultural tradition. But the best part of our day was meeting these talented artists. Talking to them one-on-one about their art and their village made for a wonderful day and a very special learning experience.