Leila Fletcher: What Young Shakespeare Players Taught Me
by Leila Fletcher, age 12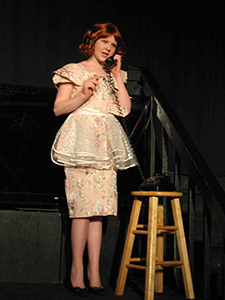 When I was five my mother took me to an introductory rehearsal of The Tempest at the Young Shakespeare Players theater. My mom talked to the directors and read pamphlets; she was scoping out the program to see if it was something I'd like to do in a few years. But when she decided it was time for us to leave, she found me, of all places, on stage introducing myself and saying I wanted to be in the play. Richard DiPrima, the founder and director of Young Shakespeare Players (YSP), told my mother, "The readiness is all," a quote from Hamlet. Even though the age minimum to perform was seven, he encouraged me to join. I recently completed my 11th production, Will & Sid Ride Again, and am about to start on my 12th.
When you enter the YSP building you are greeted by walls of framed photographs of the many children who have improved their confidence and literacy by performing works of Shakespeare and other brilliant playwrights. There is a picture of me on the wall from that very production of The Tempest, as Iris. I learned to read by participating in that play.
We normally start rehearsal with some vocal warm ups. Then, we all sit in the first three rows and rehearse different scenes from the play. I sometimes sit next to the newer kids to show them how to be respectful of the actors on stage and stay focused during rehearsal.
I remember being the youngest kid in the show. I looked up to the older actors. They were friendly and knew a lot about acting; I wanted to be like them. As I grew, new kids joined and I helped them to memorize lines and deliver them with the correct emotion. Through acting I was able to experience different lifestyles like that of a pregnant mother and of dying old man. I explored extremes – playing a goddess and then, a humble woman who specializes in reality checks.
Last year I also had the opportunity to attend a focused college-level workshop at a college level about Shakespeare's rhythm. Through Young Shakespeare Players, I have learned so much about the English language. Now, Shakespearean English is like a second language to me. I learned that many people use phrases from Shakespeare without realizing it, like "break the ice," "catch a cold," and "Knock knock! Whose There?" It's fun to know which play each phrase is from and which character originally said it.
Young Shakespeare Players was one of a kind until a veteran of the program in Madison started another youth acting group on the East Coast. Now even more children in America can take advantage of this unique opportunity to gain confidence in their reading, writing and speaking skills. This group gives local kids a chance to prove that with hard work and enthusiasm if they work hard, they can do justice to unabridged works of Dickens, Shaw and Shakespeare.