Street Art to Enhance Madison Communities
by Simone Rogers, age 18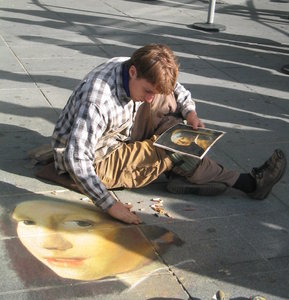 Most Madison streets are bland and colorless, but that may no longer be the case if a proposal by Alderperson Marsha Rummel of the Near East Side is passed. Her proposal outlines a process to gain the City's approval to do street art.
Street art is a certain type of art that is done "in the streets," which can include stencil graffiti, sticker art, street installations and painting. If the proposal is approved, community organizations such as neighborhood associations, business associations and non-profit groups could submit designs to the city and apply for a permit to paint a street in their area.
The application to do street design would require group approval from at least 60 percent of residents, businesses and non residential properties within a 200 foot radius of the proposed location.
Rummel got the idea after learning about "City Repair," a non profit group in Portland, Oregon. The group sponsors a program called "Intersection Repair." In the program, community members get together and paint an intersection in their neighborhood to create a sense of community.
In 2008, City Repair co-founder Mark Lakeman came to Madison and put on a workshop at the Goodman Community Center. The workshop included beautifying a bike trail with chalk.
Rummel's proposal limits the designs to avoid distracting drivers. Text, numerals, symbols or elements mimicking traffic control markings would not be included in designs. Paintings will be restricted to streets and intersections, where speed limits are no more than 25 miles per hour. Groups must provide maintenance and pay insurance on their projects Arthur Ross, the city's pedestrian-bicycle coordinator, told the Wisconsin State Journal that designs would likely need to be repainted from time to time.
"We don't look at it [Street art] as traffic calming. It's not going to slow or divert traffic. It is, however a community building activity. It gets people out of their houses and working on something together," Ross said.
[Source: Wisconsin State Journal; Wikipedia ]