Pop Legend Madonna's Roots
by Aissata Bah, age 12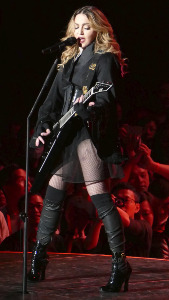 Did you know that Madonna is one of the most successful female artists in history? She has sold over 250 million records, 75 million singles, and 125 million albums.
Madonna Louise Veronica Ciccone was born in Detroit, Michigan on August 16, 1958. With her mother dying of breast cancer and her father remarrying, it started to affect her, especially at the age of five. After graduating school, she studied dance at the University of Michigan. She idolized a mentor at her school, Christopher Flynn, who encouraged her to become a dancer in New York City. By the age of 19, Madonna left Michigan and moved to New York where she supported herself by dancing with a variety of dance companies and working low-paid jobs.
During her early career, she auditioned for theatrical and musical roles, which later gave her an opportunity to visit Paris to take part in a revue. Madonna's trip to Paris in 1979 led her to meet her boyfriend at that time, Dan Gilroy. After heading back to New York together they formed a band called The Breakfast Club, but once she became lead singer, the group broke up along with her relationship with Gilroy. Soon later, Madonna formed her own band called Emmy where she later collaborated with another former boyfriend to help launch her solo career in singing.
Madonna worked furiously to get attention for her music. It didn't take long for her demo tape to be heard by DJ and producer, Mark Kamins, who secured her record deal. She recorded two of her first singles and they were hits. In 1983, she released her first U.S. Top 40 hit, Holiday, reaching 16 in the charts. In the same year she released her debut album, Madonna. Later, the single Like a Virgin was her first U.S. number one, and she became an international star.
At first, she was a struggling dancer, but now with the help of raunchy videos, her powerful personality and unique voice, she became a celebrity for everyone across the world. In 1985, Material Girl was released and she had started to make an imprint in the public, specifically on teenagers. Four years after, Madonna released another album, Like A Prayer; It was much more personal and emotional than all her previous ones. The single, Like A Prayer, had caused controversy for its blasphemous mix of eroticism and Catholic symbolism, however it reached number one around the world.
Throughout the 1990s, she continued with more projects. Mid-1990s, Madonna auditioned for the main role in the film adaptation of Andrew Lloyd Weber's musical Evita and was cast as Eva Perón — whose story was similar to her life. For playing that role, she won a Golden Globe Award for Best Actress. Madonna also started to write children's books. Her first one, The English Rose, published in 2003, became a fast selling book.
After everything she has been through since her childhood, Madonna has become a celebrity and cultural icon who surprises people with everything she does. She is a singer, actress, author, pop and fashion icon everywhere.
[Source: Women Who Changed the World]