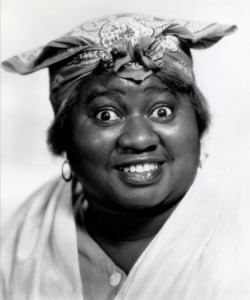 Hattie McDaniel was an actress and radio performer. She also became the first African American to win an Oscar in 1940.
McDaniel was born June 10, 1893 in Wichita, Kansas. She was her parent's 13th child. Her father, Henry McDaniel was a Civil War veteran who suffered from severe war injuries, making manual labor difficult for him. In 1901 McDaniel and her family moved to Denver Colorado, where she went to 24th Street Elementary School and stood out as one of the few African American students.
She also had a flair for singing. She sang for her church and school, but little did she know her singing would set off her acting career.
When she was in high school she started her professional career. She began to sing dance and perform in skits. In the mid 1920 she also toured with an orchestra and vaudeville troops. Then she moved to Hollywood and gained parts in movies
In 1934 she sang a duet with Will Rogers in John Ford's Judge Priest . Other movie rolls followed before she was chosen to be Mammy in the movie Gone with The Wind .
Over the years she was attacked for taking the part she wanted in Gone with the Wind and was criticized when she played servants and slaves.
Hattie McDaniel was a famous and successful actress who opened doors for many to come.
[Source: biography.com ]