Frida Kahlo Created Great Art Despite Challenging Circumstances
by Sandy Flores-Ruiz, age 15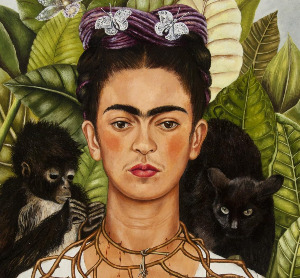 Over the years, Frida Kahlo has become one of the most famous people in the art industry. What made her so famous you may ask? She is well known because of the personal messages she portrayed in her drawings and self-portraits.
Frida was born on July 6, 1907 in Coyoacan, Mexico. She was the third of four daughters born to a German Jewish father and a mother of Mexican-Indian descent. At age 15, she studied pre-nursing, and painting was never part of her plan. Suddenly, at age 18, a bus accident left her temporarily bedridden, changing her life forever. After her accident, she started painting during recovery as a coping mechanism.
In 1929, Frida married Diego Rivera, a Mexican painter. Their relationship wasn't loving but was rather toxic. It was remarkably violent with many fights and affairs. They divorced, only to remarry a year later.
What made her so famous was her style. It was unique because of the bright colors she juxtaposed with themes like death, abuse, and sadness. It wasn't common for a woman in the 1940's to paint about such dark subject matters. For these reasons, Frida's work became popular amongst feminist scholars and spread to the public. In her time, no one really believed that a woman could have such a traumatic life, but over the years, her work has become extremely influential in the art world and femenist circles.
Frida has become and remains one of the most famous Mexican female artists in the art industry. Unfortunately, she didn't live to see her success as she became famous after her death. Her paintings are displayed in many museums around the world and remain popular because of the messages they carry and their authenticity, which broke traditions and reflected her life. Today, Frida is a feminist icon and inspiration to all people who march to the beat of their own drum.
[Source: National Museum of Women in the Arts] ]