Ebony Relaunches as Online-Only Magazine
by Hanna Eyobed, age 15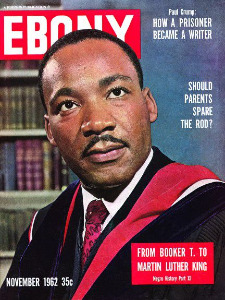 Ebony Magazine has been creating safe and productive spaces for Black/African American people for over 75 years. While existing as paper copy for the entirety of its existence, Ebony has decided to rebrand itself to a solely online platform. This shift was executed because CEO of the magazine, Michele Ghee, thought it better suited the current times.
Ebony was the first Black magazine in America, dating all the way back to 1945. Its early issues sparked popularity with stories about Martin Luther King Jr. The magazine also documented many historic moments in the civil rights movement including the Montgomery bus boycott in 1955 and the Selma march in 1965. In the 1960's the magazine covered the death of Martin Luther King Jr. In recent years, Ebony has shared inspiring stories of the Black community as well as highlighting the lives of Black celebrities like Denzel Washington, Viola Davis, and Michelle Obama.
However, it has not been an easy road to success. In 2016, Ebony struggled as the digital world grew, and was sold to its sister publication, Jet . It did not flourish and was sold again and incurred many lawsuits over underpaid writers. Ebony owners filed for bankruptcy after failing to repay 10 million dollars in loans, and by the spring of 2019 had ceased to print.
In 2020, the skeleton company was sold to Junior Bridgeman, a former NBA player. Bridgeman has many ideas and plans for the future of Ebony Magazine , the first was to hire media veteran Michele Ghee as CEO. Bridgeman's daughter, Eden, is overseeing the overall Ebony brand. She presented ideas of expanding Ebony from just a magazine to partnerships with movies and TV productions as well as other opportunities. Eden said, "Our goal is to take the Ebony and Jet brand and diversify it into new industries."
On March 1, 2021, Ebony Magazine relaunched itself as an online based magazine, with the intention of making their content accessible to any and everyone. Ghee has chosen a totally ad-supported model for the online publication, so that people will not have to pay for subscriptions. Ghee has also hired new freelance writers to dive deeper into authentic stories filled with unvarnished truth.
Whether it be in print or online, Ebony Magazine will always stay true to its demographic. Many of whom missed its voice in the Black Lives Matter movement. While the magazine may have gone through many hardships to make it to where it is now, the goal is still the same: to spread awareness and embody the voices of Black and Brown people all over America. "Our commitment is not to any city, but to the Black community," Ghee said. "We know who our boss is and our boss is them, and their opportunity to have the truth. And we want to provide that."
[Sources: Wisconsin State Journal ; Associated Press; Madison.com; Chicago Tribune ]