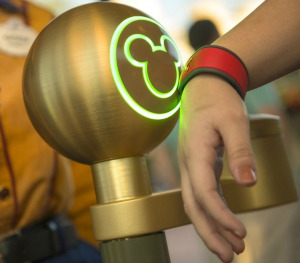 A wristband is a seemingly small object. But did you know that Disney World invested one billion dollars on a Disney wristband? They invented the piece—called the "Magic Band"— to make the Disney experience more magical and remove obstacles that keep visitors from enjoying their experience according to the higher ups at the company.
The Disney wristband enables visitors to have a more relaxed visit and removes many inconveniences. For instance, this technology allows users to book hotels and restaurants ahead of their visit. Disney-goers can also link their credit cards to the wristbands so they don't have to pull out their wallets. Further, the wristband allows visitors to book rides ahead of time so they don't have to wait in line for long periods of time.
Invented by a group of engineers nicknamed "The Fab 5", the Disney wristband was first conceptualized when Meg Crofton, president of Disney, set out to establish out all of the obstacles in Disney experience. To address these obstacles, Crofton and her staff discussed the idea of manufacturing a device that would allow visitors to book Disney experiences ahead of time. They struggled to figure out how to frame this device, and first tried lanyards and Micky Mouse hats, both of which didn't work. John Padgett, Disney advocate of the project ultimately came up with the idea of a wristband based off Nike's sportbands.
To make the band, developers assembled a team lead by Nick Franklin. Then, they set up a workspace in an old movie theater and went to work. Progress was slow as the team worked to perfect the design; for example, they spent six entire months to design the tearaway on the band. It had to be perfect, easy to tear, but not to the point where it would fall off. Finally, the engineers made the perfect band.
Now, the Magic Band is worn by thousands of visitors to Disney. Hopefully, it will improve the Disney experience and help more people enjoy the wonders of Disney Word without experiencing any of its downfalls.
[Source: wired.com ]