Exploring the History and Symbolism of the Chinese Zodiac
by Chelsea Zheng, age 9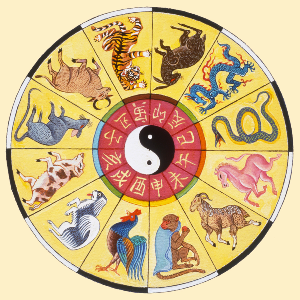 There are 12 animals represented in the Chinese zodiac. These animals are the tiger, ox, rat, rabbit, dragon, snake, horse, sheep, monkey, rooster, dog, and pig.
Out of all these animals, the dragon is the most well-known and a favorite. According to the Chinese zodiac, each animal has its own personality. For example, the dragon symbolizes power and judgment over people. The rabbit is symbolic of determination, detachedness, and secretiveness. The tiger is blessed, brave, and free-spirited.
The zodiac cycle restarts after twelve years and is based on the moon's rotation, which matches Jupiter's solar orbit. The lunar new year begins any time between mid- January and late February. This year, 2021, the year of the ox, the lunar new year began on January 26.
Festivals like the one celebrating the new year can be traced back to around 1700 BCE during the Shang dynasty. Asian people celebrate with joyful festivals filled with food, paper lanterns, and a traditional dragon dance.
[Source: The Chinese Zodiac-TIME ]