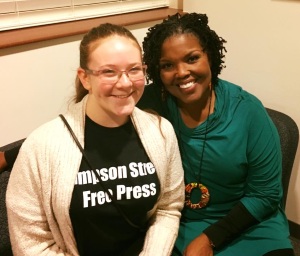 After originating the role in Philadelphia and then New York, world-famous opera singer Angela Brown graces the Capitol Theater stage as Addie Parker in the Madison debut of Charlie Parker's Yardbird . The production is a jazz-infused opera with music written by Swiss composer Daniel Schnyder, with libretto or text, written by Bridgette A. Wimberly. An actress myself, I had the unique opportunity to sit down with Brown and hear first-hand about the ins and outs of her rise to operatic fame.
Brown was born in Indianapolis, Indiana in 1963. Her grandfather was a Baptist minister. From the age of five, Brown sang in the church. Since her mother was a singer, Brown and her siblings were encouraged to engage with theatre and music. She continued singing and performing in musical theatre throughout high school.
Brown attended Oakwood College in Huntsville, Alabama, with the intent to become a singing evangelist. While in school, she experimented with opera and realized she had a talent and love for the genre.
"I always say opera chose me, I didn't choose it," said Brown. "I found while I was learning how to sing, getting the foundations of singing, that I really had an affinity for the technique, and I took to it like a duck to water."
In 1992, Brown enrolled in graduate school at Jacobs School of Music at Indiana University, where she studied opera. While in school, she participated in several music competitions, including the National Council Auditions for New York's Metropolitan Opera. She auditioned three times for the prestigious company but only made it to regionals before being eliminated. She tried one last time in 1997—her last year of eligibility for the contest—and won.
"I am the biggest believer in 'let's throw it to the wall, and see what sticks," Brown said.
Winning this competition essentially broke Brown into the opera world. She began to perform with other professional opera companies. Her breakthrough came when she earned the title role with the Metropolitan Opera in Verdi's Aida . Brown also performed with other companies including the San Francisco Opera, the Shaker Mountain Opera, the Aquila Theatre Company, and the Opera Company of Philadelphia.
Though Brown basks in her love of opera, she is acutely aware that many do not enjoy the art form. Hoping to spread her beloved genre and open others up to it, she decided to create her own one-woman show, Opera…from a Sistah's Point of View . In this production, Brown attempts to de-mystify opera as a genre. Before singing an aria —a long song typically sung by a solo voice in an opera—she contextualizes the work and tells the story of the opera. Her production spurs her audience members, many of whom are first-time opera-goers, to understand the genre better. Brown also spoke about representation in opera and noted that she never let others' preconceived notions about her identity as a Black American woman hold her back.
Brown plays Charlie Parker's mother, Addie Parker, in Charlie Parker's Yardbird , a role she enjoys immensely. I was delighted to attend the final dress rehearsal of the Madison Opera production, in which Brown's beautiful, intense, and idyllic voice reverberated throughout the Overture's gorgeous Capitol Theater.
An influential jazz musician, Charlie Parker created the jazz style bebop alongside the famous jazz trumpeter Dizzy Gillespie. Yardbird is a modern opera that mixes in jazz strains and dissonant chords to traditional forms. Set in New York, the drama spans a 48-hour period in 1955, following Parker's death. His ghost is in limbo as he watches his own dead body lie unclaimed in a morgue. In these two days, Charlie's spirit works feverishly to compose one last song in his club Birdland, as his loved ones—past and present— begin to mourn their loss.
Yardbird will run at the Overture from February 10th through the 12th. I highly recommend the performance to those with an ear for opera and those who have perhaps never experienced an opera before. This is one show—and one role played by Brown—that you simply won't want to miss.