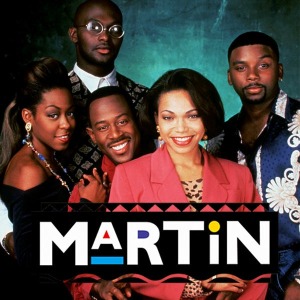 Black comedy, TV shows, and music are shaping and influencing the way people talk, dress, carry themselves and form attitudes and lifestyles in the United States.
The TV show Martin was a big hit in the 1990's and was a part of hip-hop culture,
Having rap legends on the show like Biggie, Method Man, and Snoop Dogg that influenced the growing interest in hip-hop, Martin was a staple in most black homes in the 1990's and early 2000's.
The publication Odyssey had this to say about the impact of martin in rap music: "Many of the references to the show are made by modern-day rappers who grew up watching it, including Lil Wayne, 50 Cent, and Curren$y." The artist who references the show the most in his music is rapper J. Cole. In one of his most popular songs, " Work Out " he sings, "They are starting stuff, but it's your world/ on my Martin stuff, you go girl!." J. Cole conveys how this show affects him in life and the significance of Martin Lawrence's actions in the show.
Martin's influence spread to all types of platforms. Actors like Jamie Fox impersonated Martin Lawrence. A YouTube video called " Dartin " parodied the show. Big Sean dedicated his music video Play No Games to Martin Lawrence, styling Martin TV introduction. Chris Rock was even amazed by Martin Lawrence when he was just coming up in the comedy scene. Chris Rock stated, "Let's be honest: if seeing Martin Lawrence kill while opening for you is the lowest point in your career, you've had a pretty great career."
At Martin's Hip-Hop Honors Award acceptance, Emil Wilbekin stated, " I think Martin, resonates with popular culture because he's smart, he's witty, he's kind of self-effacing, but at the end of the day he's just a great comedian."
This is just one example of the many things we see and experience from black culture. Tyler Perry movies have embedded deep black storylines of the real-world. Black entertainment has always been a part of Black culture. Black entertainment has shined a light on the struggle of being black in America. Black entertainment may crack jokes, or set up a dilemma between characters on a TV show to display hard topics in reality.
As pointed out, there are three main ways Black culture affected America. Hip-Hop/Rap is one of the main music genres youth listen to. The art of rapping is to tell a message. If its a story, or how your lifestyle has changed, or what struggles you had, it's really like poetry with rhythm on a beat. Thanks to social media, Black comedy is better than ever, from Instagram to Facebook, Twitter to YouTube, you can always find a Black break-out comedian. Nick Cannon made a TV show for that sole purpose taking comedy and rap fusing them together to make an entertaining game show.
Another example besides Martin is A Different World which, covered a lot of heavy topics in 90's that raised awareness about a lot of in the closet topics. Like the episode "If I Should Die Before I Wake" where they have a student talk to her class about her receiving AIDS and the struggle of it. Any format of black culture could show awareness and help people who are going through any black-related conflict feel remembered and supported by the community.
What other culture has influenced and impacted America this greatly before?