The Queen of Soul: Aretha Franklin Remains a
Pioneer in American Music History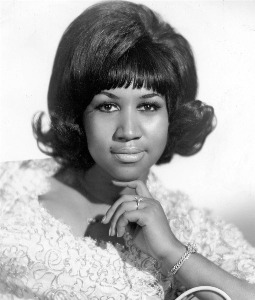 by Katina Maclin, age 15
Aretha Franklin made a significant mark in the history of American vocal music. For example, she sang at the inauguration of the very first African American president Barack Obama. And she was the first woman inducted into the Rock and Roll Hall of Fame. Aretha Franklin was popular and accomplished across musical genres.
Most people are aware that Aretha Franklin was crowned the Queen of Soul. Though the question still may linger as to why and what makes her immortal status beyond Rihanna's, Tina Turner's, or Jennifer Lopez's. Was it because she won many awards? Because she could sing so well? Or perhaps something else? Franklin was the Queen of Soul because she rose through adversity, she persevered, and because of her undeniable talent.
Aretha Louise Franklin was born March 25th, 1942. This means that she lived through the Civil Rights Movement in the late 40's to the late 60's and witnessed the initiation of the Black Lives Matter movement in 2013. She witnessed an era of racially motivated attacks against Black people, such as the 16th Street Baptist church bombing which happened in 1962. These are among the major events in Franklin's lifetime that shaped and affected her. All of these experiences influenced her music and her standing in American society.
Some of Franklin's most iconic hits like "Think" (1968), "Respect"(1967), and "You Make Me Feel Like A Natural Woman"(1967) were created during adverse circumstances. In 1968 she was named the "Queen of Soul", just four years after the 1964 Civil Rights Act. This act addressed the fact that she, along with many other successful black people, still had to use a "colored only" bathroom regardless of her status. This being said, racism was very much alive and nowhere near over, considering the assassination of her dear friend, Dr. Martin Luther King in 1968. "Think" was released that same year.
Along with being successful musically during the 60's, she also was heavily involved with the Civil Rights movement at the same time. All this considered, Franklin was like a queen—a queen that rose through this treacherous adversity.
Franklin grew up in a church where her father was a minister. From a very young age she sang in the church choir with her father. At 18 she left home to pursue her passion to become a singer. She received her father's blessing to transition from religious gospel music to secular music. Even though she had raw talent on her side, this transition was a difficult one for Franklin and she originally attempted to fit into the specific genre of blues/jazz. Many music critics still had a keen eye on her. The label Atlantic Records pursued her. When she began to work with the label, the music producers prompted Franklin to mold her own flair. She did this by combining her gospel background with her rhythm and blues style, which is the concoction of soul music. When this happened, she skyrocketed onto the pop music scene.
When she was struggling with getting started, she watched many other recording artists surpass her. Yet she persevered showing true patience, leadership, and humility.
Lastly, Franklin was in the long run an extremely successful musician. She crafted soul music as we know it today. And that's why so many awards honor her... awards such as the National Medal of Arts, the Presidential Medal of freedom, 18 Grammy awards and an additional 44 Grammy nominations. Rolling Stone Magazine ranked her number one on their list of Greatest Singers of All Time.
Aretha Franklin received all these honors because she made herself undeniable. Her first musical project was the Sound of Aretha Franklin in 1956 at the age of 14 under the management of her father. Her very last performance was September 13, 2017. That is nearly 61 years of deeply rooted commitment. She dedicated most of her life to music and demonstrated longevity and consistency in her talent.
In conclusion, Aretha Franklin was indeed worthy of her supreme title. She earned this title because she carried the true essential traits of a queen. She had a major impact on music of many genres, both during and after her career, and on the church and the Black community. Franklin passed at the age of 76. At least 1,000 people attended her funeral. It was filled with tributes from artists like Ariana Grande, a 27- year-old pop star, to Stevie Wonder, a 70-year-old legendary singer-songwriter.
And now you know why millions of Americans across the country loved, and still love, Aretha Franklin.
[Sources: Britannica ; Rock and Roll Hall of Fame Museum; Associated Press ]