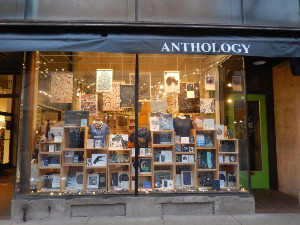 There is no denying the importance of the arts in our city, with murals lining streets and buildings, art fairs, museums, and the artists that make it all possible. Two of those artists, Sachi and Laura Komai, can be found at their paper and craft shop, Anthology.
Founded in 2008, Anthology is a space created to facilitate creativity and invite people to explore what creativity means to them. Both Laura and Sachi are artists themselves.
-----------------------------------------
The Komai sisters drew from their love of paper and writing to put together their shop. Anthology also features the work of over 100 local artists. Along with artwork, cards, stickers, and other paper goods, the sisters sell arts and crafts supplies. Customers are encouraged to use Anthology's second floor creative space to express themselves. Laura points out, "So much of our lives are digital now and we're just looking at screens all the time. I think a part of us really craves putting a pencil on paper and making a mark."
The sisters want to spread this hands-on approach to art and writing throughout the Madison community, where they grew up. They do so by donating their profits to local youth art programs and community organizations, some of which helped them foster their own creative identities when they were young.
Being a shop designed to provide people with an immersive experience that only comes with being inside of it, Anthology felt empty during the ongoing COVID-19 pandemic. Laura and Sachi have been shipping online orders nationwide but they miss seeing their customers.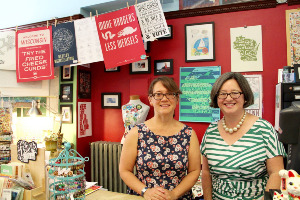 "It's a different kind of interaction compared to people coming into our space. Our space is like our house and we're inviting people in every day," says Laura, "The store misses its people."
Anthology still gets the occasional visitor—shoppers can schedule an appointment to see the shop, one visit at a time.
------------------------------------
Businesses located on State Street are dealing with the damaging effects of recent unrest sparked by the murder of George Floyd, a Black man, committed by police officers in Minnesota.
Anthology, fortunately, has not been damaged physically. And the sisters have taken measures to keep the shop safe. After boarding up their windows, the two had local artists paint messages of support and solidarity on the plywood—"Stronger Together" and "Create the World You Want to Live In."
Addressing the issues at hand, Sachi and Laura hope that people (including themselves) will commit to putting in the necessary work to do better in the face of racism and discrimination.
"What we expect for our own lives we think everybody should expect and demand. Those are the changes protesters and all of us are calling for; they are ones that anyone would make."
----------------------------------
Anthology is a personal piece of the Komai sisters—a sort of language between their passions and their visitors communicating "on a heart to heart level." Giving back to the communities that built them, they continue to push for a more beautiful, justice-driven world—creating the world that they want to live in.
---