Joan Jett and The Runaways Made Rock and Roll History
by Selin Gök, age 15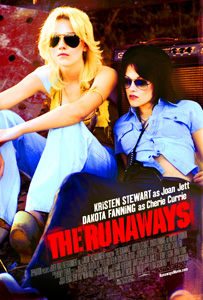 A biopic based on the memoir of rock and roller Cherie Currie; The Runaways is a thrilling film directed by Floria Sigismondi about the rise and fall of Joan Jett's teenage band. The Runaways stars Kristen Stewart as the legendary Joan Jett and Dakota Fanning as the seductive Cherie Currie. The storyline takes place in California during the mid 1970s, when Joan was just 17.
Joan Larkin, a rebellious tomboy, takes a great interest in rock and roll music and pursues her dreams by learning to play the electric guitar. In the process, Larkin faces sexism from her guitar teacher, who thinks girls should stick with playing acoustic. Determined to prove that she can indeed become a successful rock and roll musician, Larkin changes her last name to Jett and begins her search for a band.
While hanging around a club, Jett introduces herself to a well-known manager named Kim Fowley. Fowley is unconvinced of her talent until Jett proposes her idea of forming an all-girl rock band. Fowley immediately becomes interested and instructs her to work with drummer Sandy West.
After they form a rock band, Fowley still feels as if they're missing something. This is when he comes to the conclusion that the band, The Runaways, needs to have a "pretty face" to complete the image of a perfect rock band. He believes that without the right poster girl, The Runaways will never rise above amateur level.
Cherie Currie, with her Bowie-Bardot looks, was the missing piece that gave the tough-chick rock band's image a more sexual touch. After making eye contact with Currie, Jett invites her to join the band as a lead singer. Currie accepts the offer and The Runaways begin their journey to fame.
As the movie goes on, Jett and Currie's relationship becomes intense. Currie turns to drugs to deal with the stress of her dying father, nagging sister, and her fast rise to stardom. This leads to a bitter fall out between band members and ultimately each girl goes her separate way.
Currie deals with drug and alcohol problems that eventually ruin her show business career. Later, she tries to get her life back on track by working at a local bakery. Meanwhile Jett pursues her musical career, and her talent begins to pay off. She decides to form a new band, Joan Jett and the Blackhearts. Jett becomes a superstar, while Currie becomes a footnote in American music history.
The Runaways is perfect for those who are interested in learning about the dynamics and downsides of rock and roll music through a passionate, moving film. I highly recommend The Runaways to a young adult or older teen audience. Due to the graphic nature of drug use and sexual content, the film is rated R. Sigismondi did a fantastic job of putting together a film that draws the attention of both a young and old audience.
I was also impressed by how well the film dealt with the daily struggles of teenagers everywhere. The Runaways not only addressed social issues such as gender roles, drug abuse, and homosexuality, but it also showed how stressful everyday emotions can affect a child growing up in a fast-paced society. At the age of 15, I can definitely relate to the challenges Jett and Currie faced. This brilliant film provides a reality check for teens who face tough choices, especially related to drugs and alcohol. It deals with issues about society and teenagers in ways that make the film fascinating on several levels.