The 'Summer Slide' and the Achievement Gap

Study: Reading for Recreation Improves Test Scores for Low-income Students

by Taylor Kilgore, age 15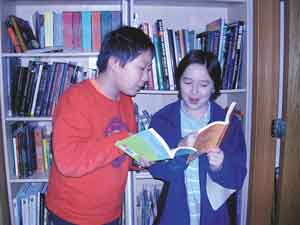 Each summer America's nagging achievement gap widens. Some experts estimate that a well-documented "summer slide" in academics accounts for as much as 80% of the achievement gap.

Statistically certain students show a significant academic drop off over the summer months. Lower-income students and students of color are much more likely than middle-class or white students to fall behind during summer.

Research by Richard Allington and several colleagues at the University of Tennessee-Knoxville shows that low-income students lose, on average, about three months of critical knowledge each summer. "You do that across nine or 10 summers, and the next thing you know, you've got over three years of reading growth lost," Allington says.
This research demonstrates again the importance of reading for recreation. Now that a new school year is starting, students of all ages should remember that reading for fun is an excellent way to improve grades.

Allington's study, which will be published later this year, examines reading performance among 852 middle school students in seventeen high-poverty elementary schools in Florida. For three years, each student received twelve books at the end of the school year, paid for mostly by Federal Title I money.

After three years researchers found that the students who received the books showed significantly higher reading scores, a less significant summer academic drop, and read independently more often than the those who did not receive books.

Many low-income students cannot afford books. Many don't have the access or transportation that would allow them to use bookstores and libraries. Programs that currently fund reading studies and supply printed material to low-income students over the summer are showing promise.

Some experts believe that providing children with books to read over summer break has the same effect as summer school, but at a much more affordable cost.

During the last decade a program called "Access Books" has donated over a million books for low-income students in seven states. Statistics show this program is remarkably successful. The ultimate goal of access books is to bridge the achievement gap between low-income and middle-class students.
The results of recent reading studies and various book programs demonstrate that consistent reading improves reading and other test scores. Young people who read for recreation, especially during the summer, do better in school. It also gives young students a head start and keeps students engaged and helps them focus on the coming academic year.

Rebecca Constantino founded Access Books in 1999. She says the cause-and-effect is simple: "When kids own books, they get this sense, 'I'm a reader' and that is very powerful."

[ Sources: USA Today; The Wall Street Journal]
***Read the "My Favorite Library Series" in our Book Talk section and in each version of our print publication***