Dane County Pursues Sustainability with New Solar Projects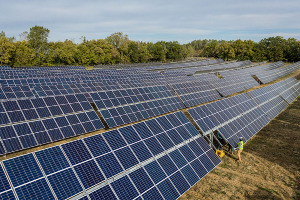 In November of 2020, County Executive Joe Parisi announced new efforts regarding conservation and sustainability. The goal is for Dane County-owned facilities to run solely on renewable energy.
In his proposal, Parisi spoke of converting about 90 acres of county land near Femrite Road, in Cottage Grove into a solar farm. This new solar farm is almost double the size of a solar field at the Dane County Regional Airport that opened two years ago. The energy produced by the new solar farm will become a primary source of energy for the county and offset current electrical usage. Now, nearly two years later, with the plans officially finalized for the solar farm, construction is set to begin this spring.
In addition to the financial benefit of converting to solar energy, which officials hope will create return on investment in the future, the farm will also be good for stimulating the regional economy. Furthermore, the construction of the solar farm will create local jobs, while simultaneously paving a road forward in the fight against climate change. This standard is one the county seeks to build on, through its current Climate Action Plan Dane.
The goal to generate 80% wind and solar electricity into communities by 2030. By attaining this goal, the county could cut their emissions in half. As a partner on this project, Alliant Energy is also making strides toward sustainability. In early 2021 the utility company joined a group consisting of other utilities who share a focus on Carbon Neutral electricity and halting all coal-fired generation by 2040.
The logistics surrounding the solar farm will include over 33,000 solar panels, which will supply 17-megawatts of energy; powering 3,600 houses annually. Officials overseeing the project speculate that the solar panels will reduce the equivalent of greenhouse gasses produced by 4,700 vehicles every year.
County officials say new solar farms are great opportunities for Dane County to take initiative in the battle against climate change. During the construction phase, the project will provide local jobs as well as employment for general maintenance and upkeep of the property. Parisi hopes the project will enhance the regional economy and serve as a blueprint for other counties who would like to claim such rewards.
[Sources: NBC15; State Journal]