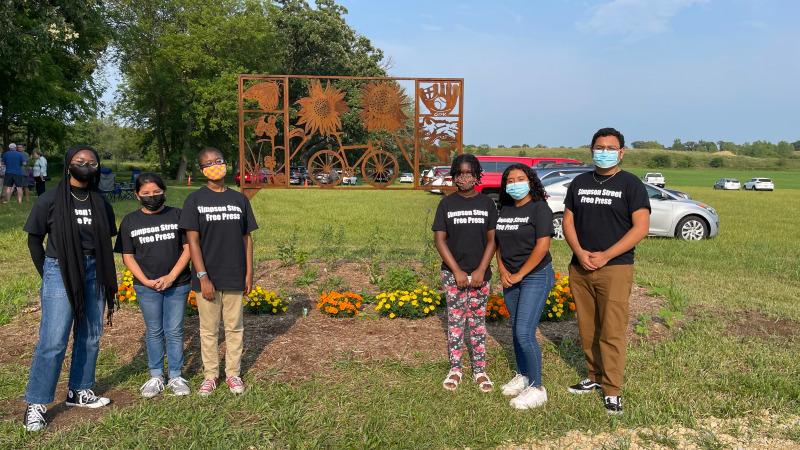 New Projects and Dedicated Volunteers Help Expand Dane County's Newest Park
On a recent summer evening, Simpson Street Free Press student reporters headed just south of Madison toward Oregon and Anderson Farm County Park. Pollinator gardens and the unveiling of public art attracted our attention to the park because we've been writing about those subjects this summer.
Established in 2014, Anderson Farm County Park is the newest park in the Dane County Parks system. At 310 acres, this is also one of our bigger parks. Anderson Farm Park is a mix of woodlands, agricultural fields, and a small prairie that was started in 2016. While the park is still being developed, new projects and new features are shaping up throughout this park.
We got to the park in time to see the unveiling of a new sculpture, which is located near the Union Road picnic area parking lot alongside the bike path. The sculpture honors the legacy of Gary Kalscheur, a long-time youth baseball coach and strong supporter of Anderson Farm County Park during its early days.
The sculpture was made by Rich Fizzell of Prairie Art Metal in Brooklyn and donated by Jann Kalscheur, Gary's wife. Jann's sister, Jacky, helped design the piece. Jann has always appreciated a similar metal sculpture located in the UW-Madison Arboretum, which inspired her to remember Gary with a similar work of public art at Anderson Farm Park.
We thought the sculpture was visually very interesting and fit well in the park, a sort of welcome sign for visitors. It included symbols, images, and shapes of all the things to do at the park and why Gary Kalscheur enjoyed the park so much. We think this piece of public art is a perfect addition to Anderson Farm County Park.
Gardens of various sizes and shapes are part of what Anderson Farm Park is all about. One aspect of gardening activities at this park is pollinator gardens. Anderson Farm Park is just one of many parks in the Dane County system taking part in efforts to protect and help pollinator species.
Many of Planet Earth's major food crops require or benefit from animal pollination. These include all sorts of berries, fruits, and vegetables. Local scientists, and scientists around the world, are concerned about the future of many pollinator species.
Important pollinator species in Wisconsin include various bees and butterflies. Some of these populations have shown alarming declines in recent years. In fact, in 2014, the Wisconsin Department of Agriculture announced a statewide pollinator protection plan. The Wisconsin Pollinator Protection Plan focuses on both managed bees and wild pollinators found in our state. The gardening activities at Anderson Farm and other Dane County Parks provide crucial habitat for pollinator species in Wisconsin.
Gardening projects at Anderson Farm Park include community garden opportunities and a food pantry garden. The garden leadership team at Anderson Park Friends came up with ideas and planned ahead for the 2021 Food Pantry Garden project. Run by volunteers, the Anderson Park friends group plans to expand the project again in 2022. Anderson Park Friends partner with the Oregon Area Food Pantry, Madison Area Food Pantry Gardens, and Oregon High School to continue the project and distribute food. As part of their partnership, Friends of Anderson Park will also sprout seedlings at the Oregon High School greenhouse.
In 2020, volunteers at the Anderson Farm Park food pantry garden raised 9 types of vegetables. This year's volunteers are growing over 14 varieties of vegetables. Along with expanding crop diversity, gardeners say they will also surpass the 2020 harvesting milestone of 1,200 pounds of vegetables. All of the garden's harvest will be donated to local food pantries in the communities of Belleville, Verona, and Oregon.
During our visit to the park, we met several members of the Friends of Anderson Farm County Park group. We enjoyed learning about this exciting, new park and the opportunities it offers. Readers who want to find out more can visit https://parks-lwrd.countyofdane.com/park/AndersonFarm
[Sources: wisconsinpollinators.com ; Wisconsin DNR; Milwaukee Journal Sentinel; Unified Newspaper Group; andersonparkfriends.org]