When United Way's Annual Campaign
Succeeds, the Entire Community Benefits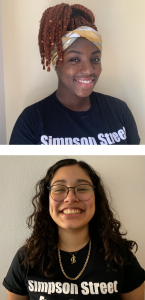 Earlier this year, student reporters from Simpson Street Free Press had a chance to interview several longtime change-makers and volunteers. Our interviews were part of United Way's centennial celebration. Let's just say we learned a lot about our community and about United Way.
The first thing we learned was that "The Power of Many, Working for All" is much more than just a slogan. Here in Dane County, our local United Way puts those words into action. For example, did you know that every dollar donated to United Way returns more than six times that amount in total community impact? That statistic alone demonstrates efficiency and solid results. And it's worth a deeper look.
United Way of Dane County supports a network of local non-profit organizations. Overall, United Way donors support about 850 local non-profits. Every gift, no matter how large or small, makes a difference at United Way. It's the power of many working toward shared community goals. When you give to the United Way campaign, you know your dollars are matched and multiplied by other volunteers and donors.
So, when you give to United Way, you're helping to build and sustain an ecosystem of local nonprofits. But it's more than that. When working with United Way, these frontline organizations work collaboratively in measurable and accountable ways.
Regular readers of Simpson Street Free Press know our newspapers strongly support access to high-quality education opportunities. This is especially true at a moment when many Dane County students are struggling to recover from pandemic learning loss.
Because of donations through the annual campaign, United Way was able to invest $4.8 million this year in 33 youth education programs. Education is just one of the focus areas for the Agenda for Change, United Way's roadmap and guiding principles. As local students, we can see everyday results. Since our participation in the centennial celebration, we've kept our eyes open. Many of the youth education programs we see on a daily basis are, in fact, funded through United Way.
The Agenda for Change helps direct United Way efforts in Dane County. In addition to education, investments from United Way address income disparities, homelessness, and access to family-supporting jobs. United Way investments also support a range of agencies focused on health, including mental health and services for seniors.
As young people living in Dane County, and as newspaper reporters, we wanted to investigate prior to writing to this piece. We learned it is easy to see results from United Way's annual campaign. In a column last year, Dave Zweifel of The Capital Times wrote that the United Way's website is "full of information on how the agency's dollars are spent and the results that have been achieved."
That's true. Here in Dane County, our local United Way is very transparent. We found it easy to dig in and see where United Way's dollars go. The information on their website is easy to navigate and understand. All the volunteers we interviewed sang the praises of United Way. They talked about how the impact of United Way's work is readily apparent. That's important because when volunteers and donors see impact, the power of many working toward shared goals takes shape and takes off. Simply put, results are multiplied.
Renee Moe is the President and CEO of Dane County's United Way. In a recent interview with the Wisconsin State Journal, Moe explained that connecting with young professionals is a priority for United Way. We see that as good news. Young people care. We want change and progress. Calling attention to and supporting United Way's annual campaign is a tangible way to address gaps and disparities at the local level. It's something concrete and practical we can do to make a difference.
"We know there are a lot of great services and programs in our community. But we're better together," says Renee Moe. "For every dollar donated through United Way, the return is more than six times in total impact. Because when you give to us, our army of volunteers can find six more dollars through a network of caring connection. That is the Power of Many, Working for All."
[Sources: The Capital Times; Madison.com; Wisconsin State Journal; unitedwaydanecounty.org; charitynavigator.org]