Dream Ball Raises Scholarship Funds for Local Students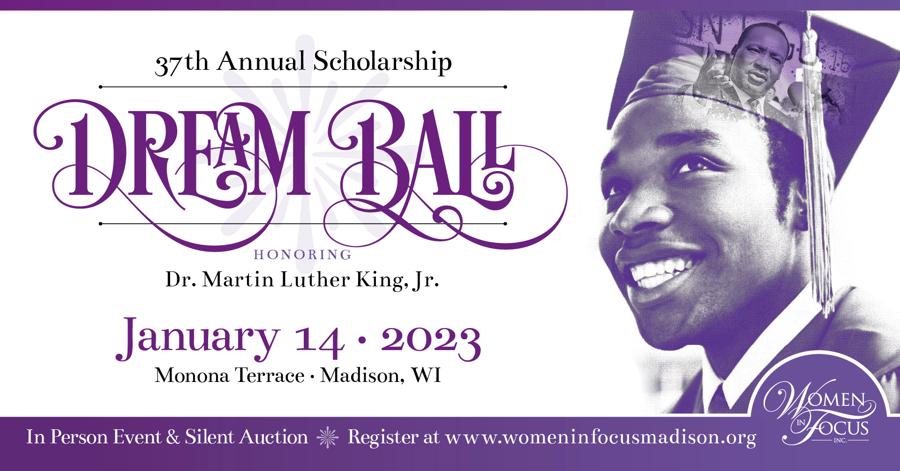 One of Madison's signature events will take place on January 14th at Monona Terrace.
The "I Have a Dream" Ball honors the life and legacy of Dr. Martin Luther King, Jr. And, after two years of gathering virtually, this year's event will happen in person. The goal is to raise funds for college scholarships, which are awarded each spring.
For students at Simpson Street Free Press, this annual event is a tradition. We attend every year, and we look forward to it. The "I have a Dream" Ball is widely known as a truly fun event. There is good food, lots of interesting people, and a real sense of community and purpose. We think that's because the people who attend know they are contributing to a great cause.
And don't forget the dancing. This event is also known for dancing and good music. The volunteers who plan and put on the event prepare well and they know what people like. Everyone has a great time. There is also a silent auction, which gives party goers a chance to pick up unique items and gifts while supporting local scholarships for young people.
Another reason the "I Have a Dream Ball is so popular is because it's run by volunteers. Women In Focus, Inc., is a Madison-area women's service organization. Their primary purpose is to award scholarships to deserving young people. This event helps them do that. The proceeds from this night of dancing and celebration directly benefit college-bound students of color whose achievements and goals embody the spirit and vision of Dr. Martin Luther King.
Women In Focus launched the "I Have a Dream" Ball 36 years ago. During that time, the event has blossomed into a cherished tradition for our city. The volunteers of Women In Focus believe in the abilities and talents of students of color in Dane County. It shows. It is a remarkable accomplishment. These volunteers deserve great credit and great thanks for growing an annual event like this into a beloved local tradition.
The Women In Focus organization also believes in the power of education. They believe, like those of us at Simpson Street, that education is key to a young person's future. Sponsors, donors, and guests at the Dream Ball all contribute. They all help Women In Focus fund and provide scholarships.
You can help too. This event is a practical way to support education and local young people while also having a great time. The Dream Ball website provides all the information you need to learn more and sign up. If you can't attend the night of the ball, you can use the website to make a donation. You can also use the website to view and bid on silent auction items
We hope our readers will consider attending this year's "I Have a Dream" Ball. It's really nice to see this year's event is back in person. We look forward to seeing you there. And remember, bring your dancing shoes!