Oscar Robertson: the Milwaukee Bucks' Superstar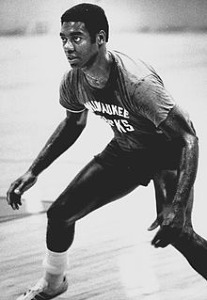 Oscar Robertson grew up in a poor family. By the age of two, he and his family had moved to Indiana, a state where basketball was beloved as a very popular and growing sport in the 1950s. Oscar made tennis balls and rags into basketballs and used peach baskets as basketball hoops to practice.
Oscar was a great student at his school and worked hard to achieve his goal: to attend college. He enjoyed playing basketball and baseball and became very talented at both during high school. When it was time for Robertson to choose where he wanted to go to college, he decided on the University of Cincinnati in Ohio.
Oscar Robertson reached the 1960 NBA Draft. Around late 1961-mid 1962, he averaged a triple double for the season. He became a great leader for the 1967-68 season. In 1971, not only did he become team captain, but also a key player. Many years later in 2021, when the Milwaukee Bucks won the NBA Championship, Oscar was honored by the team again.
[Source: BasketballReference.com, Sports Illustrated]