La Follette eSports Team Wins the High School State Championship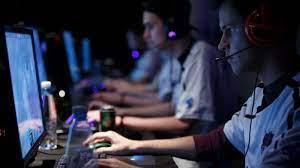 Similar to traditional sports, eSport involves players who like to compete and play games – except, eSport involves video games! The La Follette eSports team has been at the school for a little over two years. The Lancers eSports team competed in the high school state championship and recently won the competition. The game played was Super Smash Bros, a video game where players pick a character and fight against each other. Matthew Wright, the team captain, made a last-minute decision to choose a character other than his favorite, Captain Falcon, for the sudden death battle.
The CapTimes had a discussion with Wright on the State Championship and how he got involved with the team. Wright first heard about the group from word of mouth from his classmates and eventually met the coach, Mr. Pellien. Super Smash Bros was an addictive game and Wright progressively improved his skills with different characters as he played the game. Wright enjoyed attending practice and telling his teachers about it. He was an excellent student and didn't fall behind in any of his subjects in school. To Wright, eSports was like a dream come true.
Competing in the state championship at Madison College was very special to Wright. The year before it happened, he went solo and was happy he made it to the top 16, but the team didn't win first place. Either way, it was a great learning experience. He was happy to see the community and watch other people compete. Most importantly, Wright enjoyed his first time participating in a competition. This year, his second time around, he enjoyed how his team worked together and was able to secure first place. What Wright learned from his experience was the importance of teamwork and how it helps everyone improve their skills and communication.
Gaming can be a fun sport that allows individuals to join a community. No matter what you look like, you can still play video games. Nothing is stopping you from joining and recommending eSports to other people!
[Source: 100 things you should know about mammals]