The End of Brazil's Soccer "Golden Age"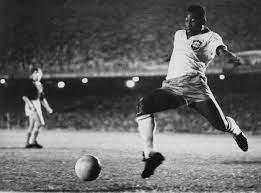 Brazil's national team has had many achievements, beginning with winning their first-ever World Cup in 1958. Illustrator John Mulliken from Sports Illustrated wrote about their win saying, "Brazil itself went wild." Brazil may have looked impressive, but in some people's eyes that was not the case. The French leader by the name of Charles de Gaulle in 1963 stated, "Brazil, that is not a serious country." During this time many people doubted Brazil, but Brazil was very ambitious about soccer.
The sport first came to Brazil in 1894. The game originally came from Britain but spread to people of the lower class. A breakthrough came in 1923, when a club founded by Portuguese bankers in 1898 allowed poor black players to join their club. They went on to win a city championship that same year.
From 1938 to the 1990's, Brazil experienced a golden era of soccer. In that time, it strengthened Brazil's national identity. It even hosted the 1950 World Cup at the Rio Stadium, which was the world's largest at the time. Even with the team's great soccer skills, the country was still criticized as an underdeveloped nation. The sport of soccer elevated Brazil to a high level in the second half of the 20th century.
However, the U.S. and other foreign countries did not focus on their soccer skills. They instead focused on the culture, economy, and politics. Brazilian soccer players, to them, were just another resource. Even as soccer grew in Brazil, those foreign countries and the U.S. took advantage of their abilities.
The greatest Brazilian soccer player of all time was Pele, who made Brazilian soccer stronger. In 1958 when he was only 17, he competed in his first World Cup game, hitting stunning maneuvers such as his back-heel moves and his famous bicycle kick. Sadly, he passed away recently from colon cancer on December 27, 2022, in São Paulo, Brazil at the age of 82. He did not just elevate the sport of soccer in Brazil, but throughout the world.
After the 1958 World Cup, foreigners massively commercialized and exploited Brazilian soccer. The first thing they did was take their players. American and European teams began to raid Brazilian talent. One by one, a star formed in Brazil was gone and sold off to a different team, even Pele, who signed a $4.7 million contract to play for the New York Cosmos in 1975. This was five years after leading the Brazilian team to their third victory in the 1970s World Cup. When he signed his contract in 1975 to Warner Communications, Inc. Pele became a brand, being the most registered name after Coca-Cola in the 1970's in Europe. His origin story from becoming poor to rich was inspiring. But his commercialization and globalization took his original story of inspiration to personal success.
Throughout its history, more developed countries have said that Brazil should follow their lead and their motives. Along with this, developed countries and businesses tried to deplete soccer. Despite this, Brazil has made soccer one of its best qualities and propelled the country to success. As the golden age ended, Brazil struggled to live up to its past expectations. A journalist from the New York Times states that after Brazil's 1982 World Cup loss, "the dream has ended, and it's a shame, because it was a beautiful dream." Brazil had to endure many difficulties during its beginning and prime years in the 20th century. Their success and willingness to still play will never be forgotten.
[Source: Library.brown.edu]