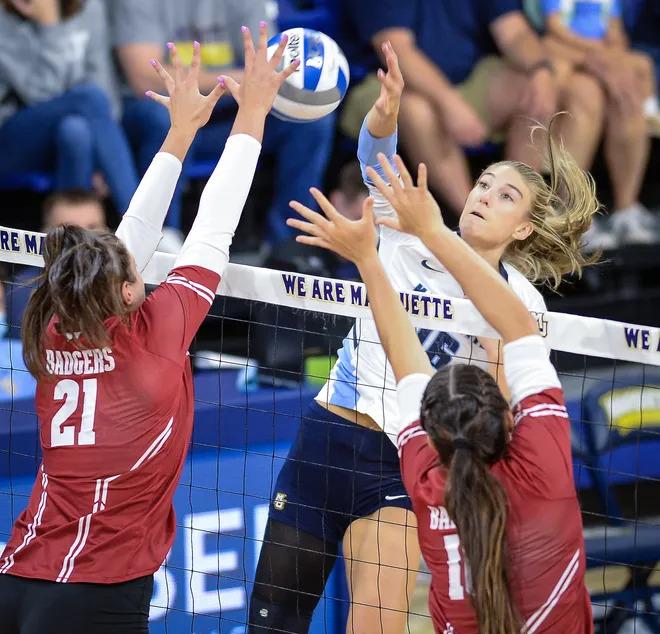 Women's Volleyball: Wisconsin and Marquette to Meet at Fiserv Forum in Milwaukee
The Fiserv Forum is the NBA (National Basketball Association) stadium for the Milwaukee Bucks. Although a vast majority of games at this stadium have been basketball, college volleyball will be making their debut at the Fiserv Forum.
At a basketball game against the University of Wisconsin (UW) Badgers, the Marquette Golden Eagles announced that the Badgers women's volleyball team will be facing off against the Golden Eagles at the state's largest arena, the Fiserv Forum. The game is set to be played on September 13th, 2023. Ryan Thesis, the Golden Eagles coach, has dreamed for many years of holding the match at the Fiserv Forum and it is looking like it will be a reality.
The Badgers and the Golden Eagles are two of the best women's volleyball teams in the country. In the 2022 volleyball season, the Badgers finished off a strong season going 28-4 as their overall record with Kelly Sheffield as their coach. The Golden Eagles also ended off on a strong winning season going 27-3 overall with Ryan Theis as their coach.
The Fiserv Forum can hold up to 17,385 fans for basketball, 15,178 fans for hockey, 18,000 for concerts and other special events. The capacity for the upcoming volleyball game is unknown, but both teams hope to beat the crowd of 16,833 fans that UW had for its match in 2022 against the Florida Gators.
Although women's college volleyball is often underrated, it can be a fun and exciting sport to watch. Hopefully more people will fill up the stands with joy and enthusiasm.
[Source: Milwaukee Journal Sentinel; uwbadgers.com]