Lisa Byington Makes History as Basketball's
First Female Play-by-Play Announcer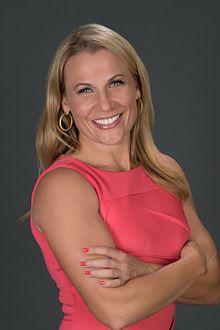 While the Milwaukee Bucks came up short in this year's playoffs, it was still a great season. The team won its division, defeated the Chicago Bulls in a five-game playoff series, and once again excited Wisconsin basketball fans.
The team made another move during the season that got less notice. The Milwaukee Bucks hired a new TV announcer.
The first female National Basketball Association (NBA) full time play-by-play announcer was hired just before the season started – in Milwaukee. Lisa Byington, former athlete-turned-sports announcer, was hired by the team in September. Byington made history with the Milwaukee Bucks, replacing their retired long-time broadcaster Jim Paschke.
This isn't the first milestone Byington has reached. Back in 2017, she was the first woman to be a play-by-play broadcaster at a Big Ten Network college football game. In 2021, she repeated this feat, but this time for the NCAA (National Collegiate Athletic Association) men's basketball tournament. She has served as a play-by-play announcer for the 2019 Women's World Cup on Fox Sports, the NBC 2021 Olympics, and for several NBA and WNBA games as well.
Her position with the Milwaukee Bucks makes her not only the first full-time female play-by-play announcer for basketball, but the first in any major men's professional team. Byington appreciated that her being the first woman in this role wasn't specially focused on.
"I understand the groundbreaking nature of this hire, and I appreciate the fact that during this process that aspect was addressed, but never made a primary focus," she said in a statement released by the Bucks. "In fact, I applaud the Bucks for taking the first steps toward making hires like this more of the norm in the NBA. Because it's time."
Byington's experience with both sports and reporting goes back a long way. In high school, Byington was a stellar basketball and soccer player and she later went on to play at Northwestern University. At the university, she received a bachelor's degree in print journalism and a master's degree in broadcast journalism. Her first job was at WBKB-TV in Alpena, Michigan, which at the time was the second-smallest television market in the country. She has since gone on to work as a reporter and a play-by-play broadcaster for many networks, including ESPN, FOX Sports, and CBS.
Lisa Byington joined analysts Marques Johnson and Steve Novak, along with sideline reporter Zora Stephenson to make up the Bucks' broadcast crew. Byington's extensive coverage on sports, specifically basketball, makes her all the more qualified for the new role and a perfect addition for the Milwaukee Bucks.
[Sources: Milwaukee Journal Sentinel; Associated Press; espn.com; Madison.com; Lisabyington.com]