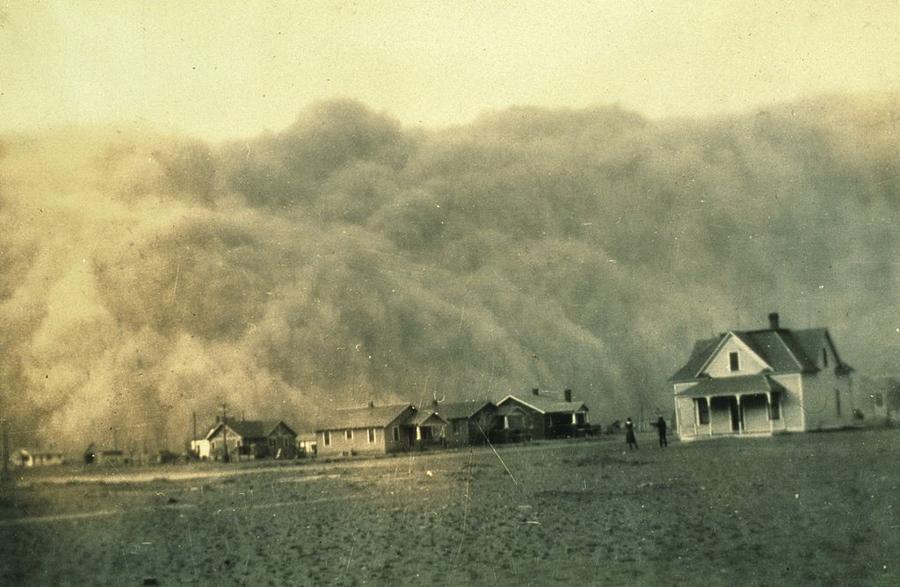 How Newspaper Reporters Covered the Dust Bowl
Often overshadowed by the wider Great Depression, the Dust Bowl was a major ecological crisis that gripped the Great Plains in the 1930s. The result of decades of failed land management and cyclical droughts, the Dust Bowl led to the loss of crops and livestock. It also took more than 7,000 human lives.
The worst storm of the Dust Bowl era claimed the lives of 300 Americans. The storm hit the Oklahoma panhandle on April 14th, 1935. Described by onlookers as a rolling wall of dust, the storm picked up dirt as it traveled across the Great Plains. In some places, the storm left behind several feet of sediment. Everywhere it went this great wind storm left disaster in its wake.
After seeing the storm roll in, Lucian Doll, a 14-year-old farm hand, told reporters he "thought the world was coming to an end." First-hand accounts like Doll's played a significant role in the reporting of the horrific Dust Bowl.
Robert Geiger, a writer for the Associated Press, was caught in the middle of the same storm. The next day, he reported on the events in the newspaper, using the term "Dust Bowl" to describe the intensity of the storm. Credited by historians for giving the Dust Bowl its name, Geiger's article spread awareness about the heartbreak happening on the dusty plains.
On April 27, 1935, Congress passed the Soil Conservation Act, largely because of Geiger's article and other first-hand accounts of horrific Dust Bowl storms. Part of President Franklin Roosevelt's New Deal, the Act helped restore American farmland and develop healthy farming practices. Thanks to the Soil Conservation Act and the reporters who brought the Dust Bowl to the forefront of public consciousness, the Great Plains region was restored and has become the breadbasket of American farming.
[Source: The New York Times, Newspapers.com, Associated Press]