The Dead Sea's Lifelessness, Ancient Wealth, and Healing Wonders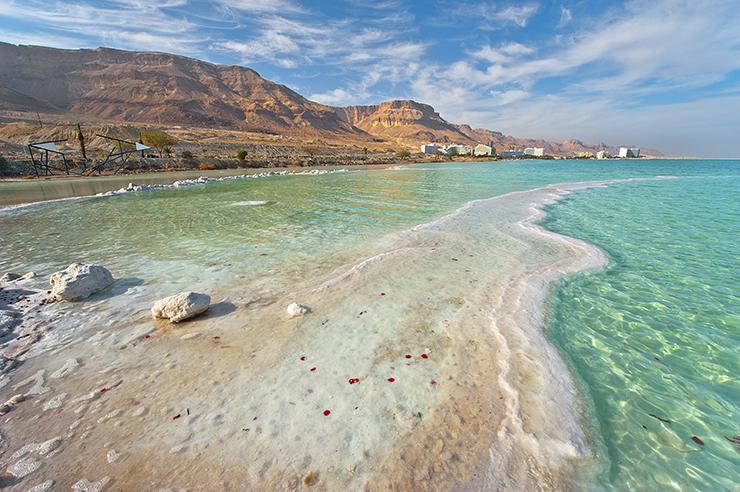 Though the Dead Sea sounds like a scary place, the same reasons this body of water can not support plant or animal life made it a valuable resource in the ancient world. Back in the Roman era (476 C.E.), salt was considered highly valuable, so much so that Roman soldiers would be paid in salt, instead of money. The Latin word "salary" came from the word "salt".
The Dead Sea, actually a lake, has had different names throughout history such as the Salt Sea and the Sea of the Plain. It is one of the four saltiest bodies of water in the whole world, containing up to 10 times as many minerals and salts as most oceans. Due to its high salinity, there are not any plants or animals that inhabit the Dead Sea. This excessive amount of salt and mineral concentration is because of the warm climate which causes water to evaporate. This drastically reduces the water-to-salt ratio in the lake. The lake is so salty that people can float on it.
The Dead Sea has also been known to have healing powers. The salt and minerals in the lake can be beneficial for skin diseases. The oxygen rate is 5% higher than most places on Earth, which can also help those with asthma and arthritis. The black mud found around the Dead Sea was once used as soap in ancient Greece because it could penetrate pores and nourish the skin. Now, multiple hotels around the Dead Sea provide an opportunity to try the benefits of the world's first health resort.
While the Dead Sea may seem like a deserted body of water, its various benefits and rich history attract many across the world.
[Sources: 100 Great Wonders of the World; deadsea.com]