Movie Review: The Right to Read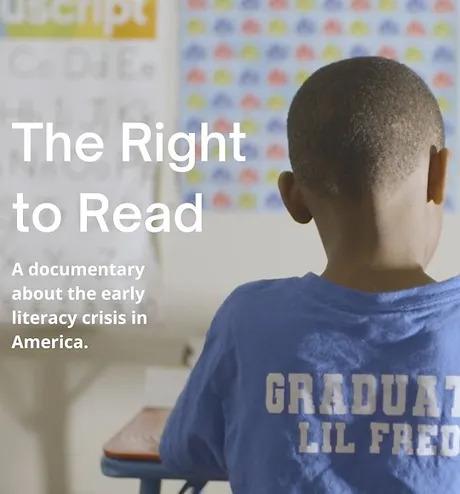 A new documentary film called The Right to Read adds to growing national debates about literacy and the science of reading. This timely and compelling film is streaming for free until March 9, 2023.
Directed by Jenny Mackenzie and produced by LeVar Burton, the film follows a long-time activist, a teacher, and two families as they navigate the future of education.
Kareem Weaver is an Oakland-based activist with the NAACP. He is an experienced educator, and his mission is to create a world where 95% of children can read. Working with Sabrina Causey, a rookie first grade teacher in Oakland, the two make a case for a new curriculum for their students based in the science of reading.
The film comes right as the "reading wars" of the 1990s have come to another head. The debate between the research-based science of reading and the whole language or balanced literacy approach now holds more dire consequences for the crisis American children face.
Currently, 37% of fourth graders in the U.S. read below grade level. While literacy is a concern for all children, gaps are especially pronounced among children of color. In fact, about 50% of all Black students graduate high school reading below grade level. Illiteracy is not only an academic burden as research shows that people who cannot read proficiently are more likely to end up in prison, homeless, and unemployed.
"Imagine being in the Stone Age and you ain't got no stone. Imagine being in the Bronze Age and you ain't got no bronze. We're in the Information Age right now—and you can't read the information," said Weaver while explaining the current reading crisis.
The Right to Read is a powerful reiteration of what researchers, educators, and community members have been saying for decades. Intricately weaving in historical context, neuroscience, social critique, and the perspectives of the featured individuals, the film presents viewers with a question: what is stopping us from saving the futures of our young people and what will we do about it? The time to answer those questions is now.
"Literacy is our greatest civil right," said Weaver. The Right to Read is a guide toward ensuring that each child has access to their right to literacy and their right to a future.
The Right to Read is available for viewing online from March 2 through March 9. You can watch the trailer below, or Click Here to register and watch for free.
[Sources: TheRightToReadFilm.org; The National Assessment of Education Progress]