Book Review: The School for Good and Evil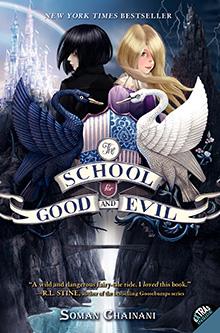 The School for Good and Evil by Soman Chainani is the first installment of a six book fantasy and fairytale series. This is a young adult book aimed towards middle schoolers, although anyone could give it a read.
The story follows two best friends, Sophie and Agatha, who are seemingly polar opposites. Sophie loves attention, being rewarded for good deeds and makes an effort to dress up and look beautiful at all times. Agatha, on the other hand, lives in a cemetery, loathes any color other than black and dislikes everyone, except for Sophie and her ugly cat. Good and bad. Right?
In their town of Gavalon, two children, one supposedly "perfect" and one "evil", are kidnapped every four years. They are then whisked to the famous School for Good and Evil where they undergo training to become a popular fairytale hero or villain. Eventually the children reappear, but in the storybooks at the local village book store. No one wants to be next. No one except for Sophie that is. She has dreamt of being an adored princess wth her very own prince her whole life, and she'll do anything to make her happily ever after come true. So, of course she plans an elaborate scheme for her and Agatha to be taken by the School Master. And it works!
However, not exactly as planned. Sophie is dropped off at the School of Evil, to take lessons to learn how to uglify herself, curse, and kill. At the School of Good, Agatha's surrounded by dapper princes and will be taught princess etiquette and how to communicate with animals. Clearly this is a mistake. The girls meet at the barrier dividing the two schools and try to switch. There, they are prohibited and told that the School Master never makes mistakes. They must go back their respective schools and focus on their studies. Sophie doesn't have much trouble settling in, doing very well in all her classes despite her trying not to. Agatha struggles and feels very out of place at her school at first, but slowly starts to excel in school and earn high marks. As the story progresses you begin to wonder; Did the School Master truly make a mistake after all?
I first read this book in middle school and I LOVED it. This book is perfect for fans of the Harry Potter and Percy Jackson series. The School for Good and Evil is filled with several plot twists, betrayal, drama and friendship. If this is something you enjoy, you should definitely give it read! I would mainly recommend this book for middle schoolers, but anyone will be able to enjoy. I reread the book a couple of months ago and enjoyed it as much as I did when I first read it. If you end up liking this book, I suggest checking out the rest of the book in the series. Netflix just recently released a movie adaptation so be sure to check that out as well!