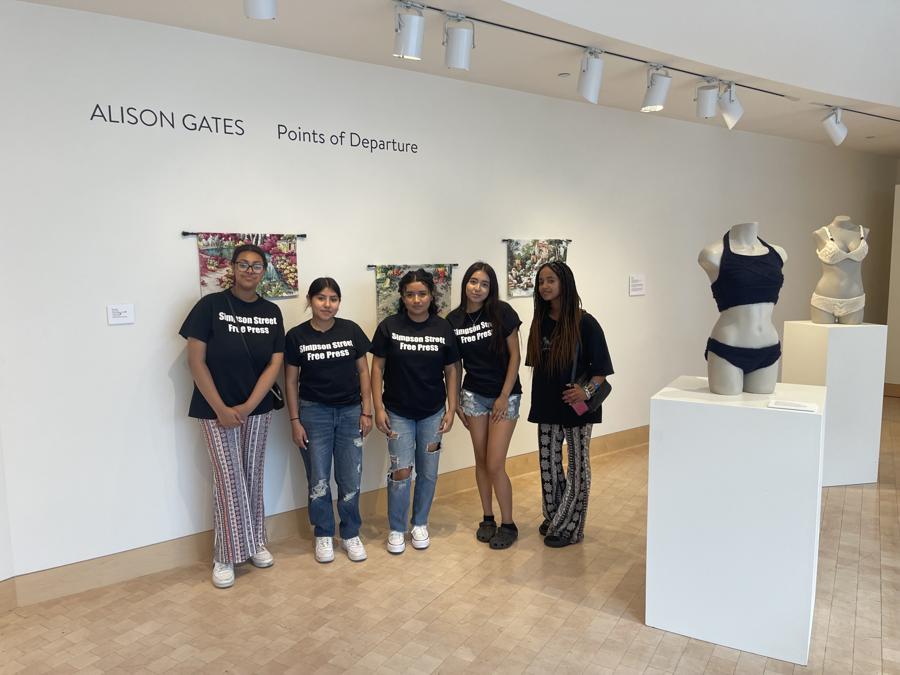 Exploring the Artistic Depths of the James Watrous Gallery
At Simpson Street Free Press, we are always on the lookout for art. Recently, student reporters from Simpson Street took a trip to see the James Watrous Gallery at the Overture Center for the Arts. Just like writing, art is a form of discipline and expression. Both of these draw out individual imagination and creativity to convey meanings that reach deeper than the surface.
So, on a bright and sunny summer day, our reporters arrived at the Overture Center at 4:30 p.m. and made our way up to the gallery. The James Watrous Gallery is located on the third floor, where one of the gallery staff greeted us at the entrance and gave us an overview of gallery highlights and ongoing exhibits.
The Watrous Gallery is a program of the Wisconsin Academy of Sciences, Arts & Letters. The gallery showcases the work of local artists and, more generally, artists from Wisconsin. We had the opportunity to view featured collections by Colin Matthes and Alison Gates, which were on display from April 28 to July 23.
At the front of the gallery, Matthes' art from his exhibit titled The Days Go By Like Wildness hung on the walls. At first glance, several reporters thought the art seemed a little spooky and dark. The majority of the pieces were composed of only the colors black and white, occasionally including a pop of color for emphasis.
The drawings illustrated a lot of creatures, humans, and abstract figures, some of which were initially surprising. For example, two of his drawings showcased a figure with five pairs of eyes and another depicted a figure with enlarged ears. Once we took a closer look at his drawings, we noticed that many of the art pieces were actually combinations of drawings and words. Sometimes he included a simple – yet thought-provoking – phrase, and other times his illustrations were accompanied by entire written stories and even instructions, such as in his piece titled Ninja Walk (2021-22). Reading deeper into the meaning of his artwork helped us realize that sometimes art isn't what it seems at first.
Matthes' art has a sweet story behind it. In his bio, Matthes explains that he draws together with his two children, ages 5 and 7. He regularly uses this activity to bond with his children and enjoy time with them, which explains some of the youthful and playful elements of his artwork. He also likes to draw once his kids go to sleep when he and his wife have some alone time. They use this time to simply unwind, put on a show, and have a couple of drinks, all while he continues to channel his creativity onto the paper in front of him. When drawing, he relies on improvisation and lets go of any self-consciousness, making him "more free than ever." Matthes' sentiment reminds us all that sometimes it is good to just take a break, relax, and allow your imagination to go wild.
Some of our reporters commented about the humor in much of the art, and how many of the pieces were relatable and seemed to include social commentary and recurrent themes that many people experience. Several pieces touched on topics such as working from home, being lonely, and getting a puppy. Matthes' ability to share his raw emotions and experiences through his drawing and storytelling allowed us to reflect on our own experiences of working from home during the pandemic and how social distancing affected our lives.
Our journalists ventured toward the second section of the Watrous Gallery, to Alison Gates' exhibition, Points of Departure. This half of the gallery was much more vibrant and used many different colors. Upon walking over to Gates collection, the first thing we noticed were four mannequins clad in beautiful wool bikinis that were hand-knitted using traditional Northern European patterns. On the walls and throughout the exhibit there were many maps and printed textiles, some of which were embroidered.
The wool bikinis had a much deeper and darker meaning behind them. They address the worldwide problem of global warming and also highlight the importance of traditions.
In her bio and placards hung around the exhibit, Gates discussed how global warming is having an impact on cultural traditions, in this case, customary knitting patterns from Norway, Ireland, and the Shetland Islands. While knitting sweaters is a cultural heritage in these regions, the gradual changing of the climate may soon make wearing sweaters unnecessary. Then, what will happen to this tradition? Gates' wool bikinis are an ode to such customs that may be forced to change or just completely disappear. Although her bikinis started as a humorous project, as time goes by, the message behind her work becomes increasingly serious.
Through her art, Gates also shows how the meaning of words and places can change within different contexts. Her printed textiles conceal embroidered words, which add "a whisper of new meaning" to the imagery of the textile. Similarly, the embroidered maps in her exhibit point out how land and borders change with natural disasters and human impacts. Our reporters learned that appearance can be deceiving. The bright colors and beautiful patterns easily grabbed their attention, but realizing the significance of Gates' artwork required them to look deeper.
Upon leaving the James Watrous Gallery, our reporters passed through the Madison Museum of Contemporary Art on their way out of the Overture Center. We thought it was so nice that there are various galleries in the Overture Center and that we were able to visit both the James Watrous Gallery and MMoCA on the same day. The last stop of the day was Nick's Restaurant, a State Street classic. Over a tasty meal, Simpson Street reporters discussed the impact of the two exhibits they had just seen. The gallery and the art inside left a mark on our writers. Our trip left us with much to think about and consider -- including the changes in our world and the power of words and art.
[Source: Wisconsin Academy of Sciences, Arts & Letters]