J. Cole: From Trailer Parks to Platinum Records - A Rap Legend's Journey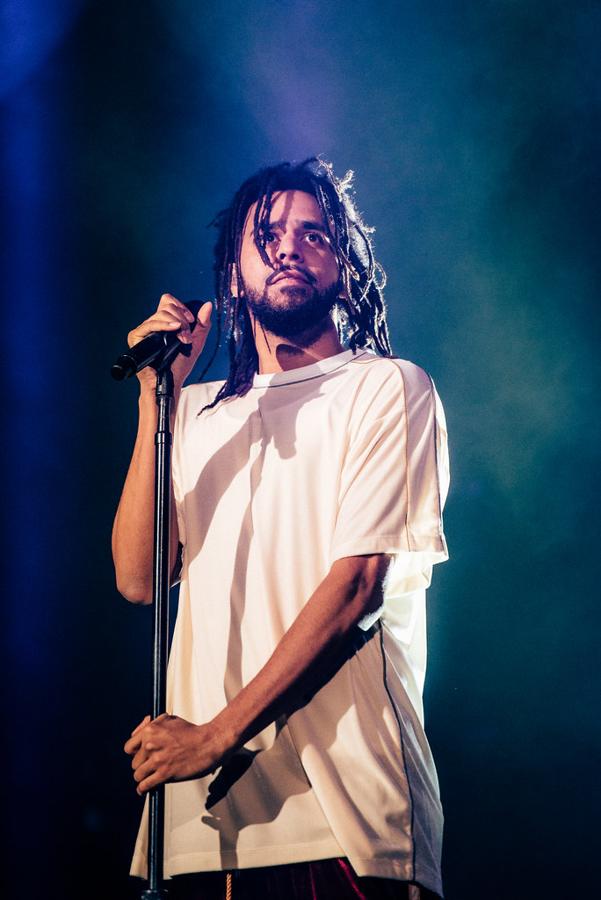 Jermaine Lamarr Cole, also known as J. Cole, is considered by many to be one of the best rappers of all time. Cole uses rap and his platform to preach about racism, poverty, single-parent households, political corruption, and drug abuse.
Cole was born in Frankfurt, Germany, on Jan. 28, 1985, on a U.S. Army base. His father was an African-American soldier stationed there at the time. Cole's mother was a white postal worker. His dad left when Cole was a baby. Cole's mother moved Cole and his brother, Zach, to Fayetteville, North Carolina, where they grew up often living in trailer parks. It was during this time that Cole fell in love with rap.
Cole began playing the violin in an orchestra and taught himself how to rap and produce music. Cole held part-time jobs while still working on his artistic craft. Cole attended St. John's University in New York and graduated Magna Cum Laude in 2002 with a communications degree.
Cole started making mixtapes that were largely self-produced. He used to spend hours outside the recording studio of his idol, Jay-Z. Eventually one of Jay-Z's producers played the mixtape for him. He was so impressed that he later signed Cole to his record label, Roc Nation.
When Cole released his first studio album, "The Sideline Story," in 2011, he skyrocketed to fame. The album debuted near the top of the Billboard 200. Its biggest single was "Work Out," which reached No. 13 in the Top 40 Pop Hits, and was later certified double platinum. The album went platinum in 2016.
His follow-up album "Born a Sinner," was released in 2013. The album contains one of the biggest songs from Cole's catalog, "Power Trip." The song hit No. 19 on the Billboard 200 and was nominated for a Grammy for Best Rap/Sung collaboration. Also, in 2020, "Born a Sinner" went double platinum. Cole's next creation was "2014 Forest Hills Drive."
The album won a Grammy for Best Rap Album of the Year and has a lot of classic songs such as "No Role Modelz," "Apparently," and "Love Yourz." The album first went platinum in 2015 and a year later the album went double platinum, but it did not stop there. The album went triple platinum in 2019.
Cole's fourth album, "4 Your Eyes Only," came out in 2016 and went platinum in 2017. All 10 songs debuted in the top 40. Again, Cole was a Grammy nominee. Cole disproved critics who said his success was supported by featured performers by not having any in this album.
In 2018, Cole released "KOD," which has three meanings: "kids on drugs," "king overdosed," and "kill our demons." In this project, Cole talks about mental health, drug dependency, and greed. All 12 tracks reached the Billboard Hot 100 and the album went platinum in 2018.
The "Off-Season," which is his latest album from 2021, went to No. 1 after its debut. All 12 tracks from the album went top 40 again. The album went platinum in 2021, seven months after it was released. The album featured some of the biggest artists including, 21 Savage, Bas, 6lack, Lil Baby, and Morray.
Cole and his manager, Ibrahim Hamad, are the founders of the record label Dreamville which they started in 2007. Dreamville has produced soundtracks and albums like "Creed III," "2014 Forest Hills Drive," and "Revenge of the Dreamers III."
All six of Cole's albums are at least platinum which is extremely hard to do. To go platinum you need to have at least one million streams or sold copies, two million for double platinum, and three million for triple platinum. Cole is soon to release a new album that's causing a lot of buzz. Given his current catalog, he is already one of the greatest rappers.
[Source: All Music, Biography.com, The Vogue]