The History behind Famous Iconic Cartoon Hello Kitty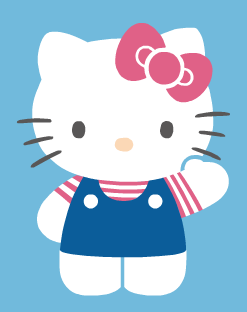 Many of you may know Hello Kitty, but can you really call yourself a fan if you do not know her history?
Hello Kitty is a famous cartoon character that was created in 1974 by the Japanese company Sanrio. Although she looks like a cat, she is actually a little girl with cat ears, a yellow nose, and no mouth. No one exactly knows why the character does not have a mouth. She has a twin sister who goes by Mimi. You probably would not be able to tell them apart if it were not for their iconic bows—Hello Kitty's bow is red and Mimi's is yellow. The sisters grew up with their parents in suburban London according to Sanrio.
Hello Kitty enjoys baking, playing the piano, and making new friends. She always says, "You can never have too many friends!" She is in the third grade and her playmates are monkeys, a bear, a rabbit, and a raccoon. Though Hello Kitty was initially intended for a younger audience, her cuteness helped her popularity quickly spread to all ages.
In the mid-1980s, Sanrio designed their first Hello Kitty children's item: a small coin bag. Shortly after, daily-use items were added such as toothbrushes, barrettes, pens, pencils, and notebooks. In the 90s, the company began marketing its brand to an older audience by selling handbags and makeup products.
The Hello Kitty legacy continues to grow as new merchandise and even new characters are introduced. Hello Kitty remains the princess of "kawaii", which means "cute" or "cuteness" in Japanese.
[Source: britannica.com]